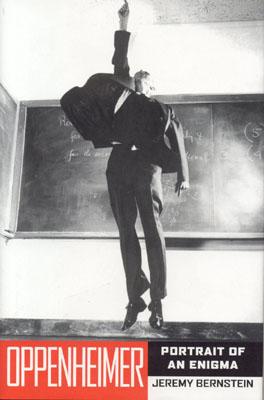 Oppenheimer (Hardcover)
Portrait of an Enigma
Ivan R. Dee Publisher, 9781566635691, 238pp.
Publication Date: April 1, 2004
* Individual store prices may vary.
Description
J. Robert Oppenheimer was a puzzle to everyone. The nuclear physicist most responsible for the creation of the atomic bomb, he was a genius both scientifically and otherwise. His standards were impossibly high. He read widely in many languages, wrote poetry, and did superb science. Yet in Jeremy Bernstein's intensely interesting biographical memoir, Oppenheimer emerges as a man unsure of his identity and captive to an element of self-destructiveness in his makeup. Oppenheimer is the long-awaited book that many people feel Mr. Bernstein was almost born to write. As a former colleague of Oppenheimer's, he has composed a book that is both personal and historical, bringing the reader close to the life and workings of an extraordinary and controversial man. Oppenheimer once told the author that during the now-famous hearing in which he lost his security clearance--one of the most spectacular attacks of the McCarthy era--he felt it was happening to someone else. His lawyer at the hearing, after being with Oppenheimer day in and day out for several months, said he did not know him in any real sense at all. Yet everyone in the scientific community and in government agreed that without Oppenheimer's totally remarkable leadership at Los Alamos, the atomic bomb would not have happened, and the Second World War would have ended very differently. Filled with revealing insights and details that set the historical record straight, Oppenheimer is that rare quantity: a vastly entertaining study of one of the most important and enigmatic scientists of the atomic age. Illustrated with black-and-white photographs.
About the Author
For nearly three decades Jeremy Bernstein wrote profiles of scientists for the New Yorker. Many were prize-winners, and his book Einstein was nominated for the National Book Award. But he hesitated to write about Oppenheimer until now. Mr. Bernstein, a theoretical physicist best known for his nonscientific work, has also written The Dawning of the Raj and The Merely Personal as well as Hitler's Uranium Club; Three Degrees Above Zero; and Cranks, Quarks, and the Cosmos. He lives in New York City and Aspen, Colorado.
or
Not Currently Available for Direct Purchase