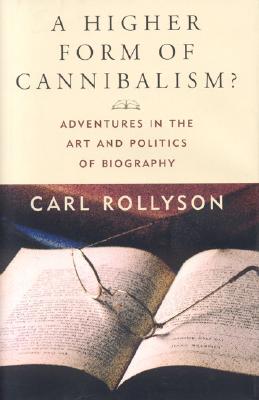 Higher Form of Cannibalism CB (Hardcover)
Adventures in the Art and Politics of Biography
Ivan R. Dee Publisher, 9781566636421, 208pp.
Publication Date: March 30, 2005
* Individual store prices may vary.
Description
"We used to canonize our heroes," Oscar Wilde wrote. "The modern method is to vulgarize them. Cheap editions of great books may be delightful, but cheap editions of great men are absolutely detestable." Since Wilde's condemnation of modern biography, the genre would appear to have accelerated its descent into bad taste. As Carl Rollyson points out, writers as various as Rebecca West, Ted Hughes, and Joyce Carol Oates have deplored biographers' tendency to cut up lives and render the bloody data so as to make their subjects seem unhealthy, unwholesome, and unsound. Janet Malcolm has compared biographers to burglars; modern novels feature the biographer as grave robber and victimizer. Exactly when did biography take this turn for the worse? Inquiring into the history of the art, and examining his own practices as well as those of biographers from Samuel Johnson to Richard Ellmann, Jeffrey Meyers, and many others, Mr. Rollyson casts considerable doubt on the indictments handed down by Oates, Malcolm and Co. By its very nature, Mr. Rollyson argues, biography is a problematic and controversial genre. That contemporary critics believe it has gone astray only reveals their ignorance of history and their hostility to the biographical enterprise itself--an animosity born of a misguided modernism and a rejection of Enlightenment values. A Higher Form of Cannibalism? explores the nexus between scholarship and biography, and demonstrates how the similarities of method between Leon Edel and Kitty Kelley outweigh the differences. Viewed through the prism of biography, the scholarly and the popular may not be as clearly separated as people suppose.
About the Author
Carl Rollyson has written biographies of Rebecca West, Norman Mailer, Martha Gellhorn, Lillian Hellman, Marilyn Monroe, and (with Lisa Paddock) Susan Sontag. A graduate of Michigan State University and the University of Toronto, he is professor of English at Baruch College of the City University of New York and a longtime student of the art of biography. He lives in Cape May County, New Jersey.
or
Not Currently Available for Direct Purchase