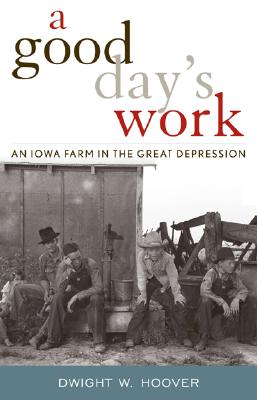 A Good Day's Work: An Iowa Farm in the Great Depression (Hardcover)
An Iowa Farm in the Great Depression
Ivan R. Dee Publisher, 9781566637022, 211pp.
Publication Date: April 18, 2007
* Individual store prices may vary.
or
Not Currently Available for Direct Purchase
Description
Despite beautiful landscapes and bountiful harvests, farming is hard work and always has been. The Great Depression in rural America, which began in the 1920s and lasted until World War II, made it still harder. At a time when tractors were replacing horses and the family farm was giving way to the large, single-crop enterprise, the struggle to survive and modernize in a period of economic scarcity was especially sharp. In A Good Day's Work, Dwight Hoover, who grew up on an Iowa farm in this era, recalls the events of day-to-day life on a single farm, offering detailed descriptions of daily work in each of the year's four seasons. A Good Day's Work is a fascinating if grim reminder of what it was like to be a child with adult responsibilities. Mr. Hoover's unusual memoir recalls the rough edges as well as the happy moments of rural life. It is an honest re-creation of a world that was vanishing.
About the Author
Dwight Hoover is emeritus professor of history and emeritus director of the Center for Middletown Studies at Ball State University, in Muncie, Indiana. He lives with his wife in Sarasota, Florida.
Advertisement