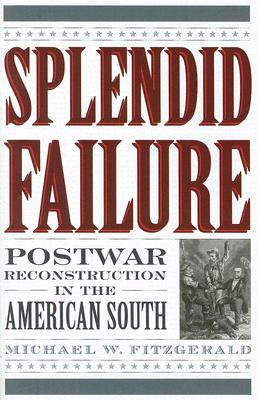 Splendid Failure (Hardcover)
Postwar Reconstruction in the American South (American Ways)
Ivan R. Dee Publisher, 9781566637343, 234pp.
Publication Date: May 3, 2007
* Individual store prices may vary.
Description
Since the civil rights era of the 1960s, revisionist historians have been sympathetic to the racial justice motivations of the Radical Republican Reconstruction policies that followed the Civil War. But this emphasis on positive goals and accomplishments has obscured the role of the Republicans in the overthrow of their own program. Rich with insight, Michael W. Fitzgerald's new interpretation of Reconstruction shows how the internal dynamics of this first freedom movement played into the hands of white racist reactionaries in the South. Splendid Failure recounts how postwar financial missteps and other governance problems quickly soured idealistic Northerners on the practical consequences of the Radical Republican plan, and set the stage for the explosion that swept Southern Republicans from power and resulted in Northern acquiescence to the bloody repression of voting rights. The failed strategy offers a chastening example to present-day proponents of racial equality.
About the Author
Michael W. Fitzgerald teaches American history at St. Olaf College in Northfield, Minnesota, where he lives. He is the author of prizewinning articles on aspects of Reconstruction and in two other books has written on the politics of emancipation and of agricultural change in the post--Civil War period.
or
Not Currently Available for Direct Purchase