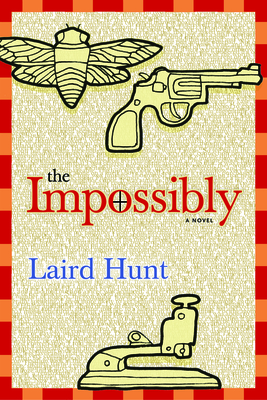 The Impossibly
Hardcover

* Individual store prices may vary.
Other Editions of This Title:
Paperback (1/24/2012)
Description
The first time we met, it was about a stapler, I think.
Deadpan delivery and a sly eye for detail characterize the anonymous secret agent in Laird Hunt's tense, funny spy noir. When the nameless narrator botches an assignment for the clandestine organization that employs him, everyone in his life--including his new girlfriend--is revealed to be either true-blue, double operative, or both.
With the literary coyness of Paul Auster and the dark absurdity of Kafka, Hunt's debut is a daring, memory-driven narrative that is as fittingly spare as a bare ceiling light--and just as pendulous. On the surface, the narrator is a simple man, fixing his washer and dryer, strolling through city parks, falling in love at an office supply store. But in The Impossibly, the mundane gives way to outrageous misconduct, and with each unexpected visitor or cryptic note, the tension reaches tantalizing heights. As the narrator frugally doles out clues about his dangerous work in an unnamed European city, the reader inevitably becomes confidante and fellow gumshoe. The narrator's final assignment--to identify his own assassin--dismantles the reader's own analysis of the evidence.
Marketing Plans:
-National author tour includes: East Coast, West Coast, Minneapolis/St. Paul
- Co-op available
Laird Hunt is an editor for the Department of Public Information at the United Nations, and is New York correspondent for London's Mouth-to-Mouth Magazine. He has lived in Singapore, London, Paris, The Hague, Tokyo, and throughout the United States. The Impossibly has been showcased on the Fence literary magazine website. He lives in New York City.
Praise For The Impossibly…
Hunt is an intellect and a great spinner of claustrophobic noir plots, and his erudite gumshoe yarn owes as much to George Perec and Gertrude Stein as it does to Paul Auster." The Believer

Every once in a long while, you discover a novel unlike anything else you've ever read. Laird Hunt's debut is one of them. Innovative, comic, bizarre and beautiful." Time Out New York

A fractured espionage story, John le Carré à la Borges." The Stranger

For 200 pages, Hunt sustains an atmosphere of severe disorientation, packing his story with more curious and vaguely menacing strangers than a David Lynch movie. . . . The book's many layers and difficult questions make it an ideal candidate for an adventurous book club." Minneapolis Star Tribune

The Impossibly is one of the most exciting debut novels I have ever read. . . . While most Kafka comparisons are specious and overstated, Hunt's subtle humor, sophisticated intelligence and the graceful timbre of his prose place this novel firmly in the tradition of The Castle, as well as Nabokov's The Eye and Thomas Bernhard's The Loser. This is high praise indeed, but The Impossibly is a marvelous, wonderful novel." Review of Contemporary Fiction

"[Laird Hunt] captures the tone of Paul Auster's City of Glass in the first few chapters, and he brings a decidedly Kafkaesque feel to the spy's early adventures." Publishers Weekly

Hunt debuts with a stylish, if opaque, noir tale about a hit man who falls in love, takes a break, and incurs the wrath of his organization. . . . The mystery runs at all levels here, and the style and situation have appeal." Kirkus Reviews

The Impossibly, Laird Hunt's first novel, is a challenging and inventive work, alternately chilling and humorous, that breaks new ground in the world of speculative fiction. Diffuse with noir tropes stripped of their origins, it leaves the reader with a map of the complicit mind trying to deal with perversity and adversity in a violent world." Rain Taxi Review of Books

From the title to the last, dreamlike passage, Hunt's novel is a deliberate, sometimes striking conundrum, one with its origins deep in the heart of traditional genres (in particular, hardboiled detective fiction and international spy thrillers), but with ambitions that extend into knotty problems of narrative, language, and meaning." American Book Review
Coffee House Press, 9781566891172, 205pp.
Publication Date: September 1, 2001
About the Author
Called one of the most talented young writers on the American scene today by Paul Auster, Laird Hunt is the author of three previous, genre-bending novels: The Impossibly, The Exquisite, and Indiana, Indiana. A former press officer at the United Nations and current faculty member at the University of Denver, he lives in Boulder, Colorado.