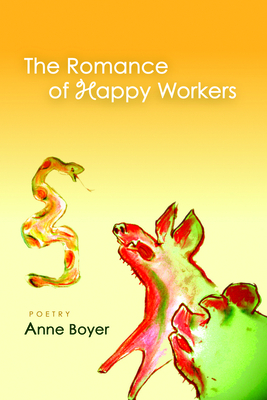 The Romance of Happy Workers
Paperback

* Individual store prices may vary.
Description
The Romance of Happy Workers swaggers through a world of cowboys, conquistadors, comrades, and housewives with mock-Russian lyric sequences and Keatsian swoon. Political and iconoclastic, Anne Boyer's poems dally in pastoral camp and a dizzying, delightful array of sights and sounds born from the dust of the Kansas plains where dinner for two is cooked in Fire King and served on depression ware, and where bawdy instructions for a modern "Home on the Range" read:
Mix a drink of stock lot:
vermouth and the water table.
And the bar will smell of IBP.
And you will lick my Laura Ingalls.
In Boyer's heartland, "Surfaces should be worn. Lamps should smolder. / Dahlias do bloom like tumors. The birds do rise like bombs." And the once bright and now crumbling populism of Marxists, poets, and folksingers springs vividly back to life as realism, idealism, and nostalgia do battle amongst the silos and ditchweed.
Nothing, too, is a subject:
dusk regulating the blankery.
Fill in the nightish sky with ardent,
fill in the metaphorical smell.
A poet and visual artist, Anne Boyer lives in Kansas, where she co-edits the poetry journal Abraham Lincoln and teaches at Kansas City Art Institute.
Coffee House Press, 9781566892148, 80pp.
Publication Date: April 1, 2008
About the Author
A visual artist and poet, Anne Boyer was born in Topeka, Kansas and educated at Kansas State University and Wichita State University. After a decade spent teaching in Missouri and Iowa, she recently returned to Kansas where she co-edits the poetry journal Abraham Lincoln.
or
Not Currently Available for Direct Purchase