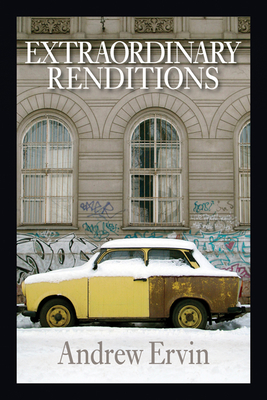 Extraordinary Renditions
Paperback

* Individual store prices may vary.
Description
Set in Budapest--a city marked by its rich cultural heritage, the scars of empire, the fresher wounds of industry, and the collateral damage of globalism--Extraordinary Renditions is the sweeping story of three equally tarnished expatriates. World-renowned composer and Holocaust survivor Lajos Hark lyi has returned to Hungary to debut his final opera and share his mother's parting gift, the melody from a lullaby she sang as he was forced to leave his Hungarian home for the infamous Czech concentration camp Terez n. Private First Class Jonathan Brutus Gibson is being blackmailed by his commanding officer at the US Army base in Hungary, one of the infamous black-sites of the global War on Terror, and he must decide between going AWOL or risking his life to make an illegal firearms deal in Budapest. Aspiring musician Melanie Scholes is preparing for the most important performance of her career as a violinist in Hark lyi's opera, but before she takes the stage she must extricate herself from a failing relationship and the inertia that threatens to consume her future. As their lives converge on Independence Day, they too will seek liberation--from the anguish of the Holocaust, the chains of blackmail, and the bonds of conformity.
A formidable new voice in American fiction, Ervin tackles the big themes of war, prejudice, and art, lyrically examining the reverberations of unrest in today's central Europe, the United States' legacy abroad, and the resilience of the human spirit.
Praise For Extraordinary Renditions…
The variety of viewpoints and the author's evident intimacy with an ancient foreign capital [Budapest] are promising, and Ervin makes it plain that he is taking on weighty themes."—The New York Times Book Review
"Set in a madly grasping modern Budapest, literary critic Ervin's debut mines very different ways of achieving personal and artistic freedom in three neatly polished, interlocking tales. . . . With dexterous sensibility and fluid prose, Ervin's protagonists find liberation from the onerous strictures of Budapest's Nazi and Communist past."Publishers Weekly (starred review)
"A thought-provoking exploration of tyranny, freedom, and the power of music."Booklist
Ervin keeps his emotionally and politically fraught setting animated, thanks largely to his skill at inhabiting each of his characters . . . .[Extraordinary Rendition's] ending makes a poignant case for the power of art in an age of war."Minneapolis Star Tribune
Darkly evocative . . . the book has a prismlike quality; each story makes us see the city from a different but overlapping perspective."Philadelphia Inquirer
"Andrew Ervin writes with an empathetic passion, near poetic words, daring politics, and a sensitive and mature grasp of his characters. This is a strong debut."Chris Abani
"I can't decide what amazes me most about this book: the confident, muscular beauty of Andrew Ervin's writing; the breadth of his imagination; or the depth and diversity of his profoundly engaging characters. Again and again, though the force of the narrative drove me relentlessly onward, I would stop simply to marvel. Extraordinary Renditions is an extraordinary debut."Julia Glass
"This tautly plotted, richly detailed trio of linked stories documents, with devastating and blackly comic ardor, the impossibility of simple morality in the rapidly aging era of terror. With Philadelphia and Budapest as his unlikely anchors, Andrew Ervin gives us crooked military men, postmodern artists, marauding skinheads and concert musicians, all rendered in nimble prose that never fails to shock and delight. An awesome debut."J. Robert Lennon
"Through the eyes of three outsiders, Extraordinary Renditions takes the reader deep into the heart of Budapest, both its past and present. The whole city is here, the banks of the Danube brimming with history, intrigue, art, food, drink, and most important of all, music. His characters may be losteven the one native is a foreignerbut Andrew Ervin is a sharp-eyed, sure-handed guide." Stewart O'Nan
"There is a striking moral claritya certainty even to the questions the work posesevidenced as these narratives ponder the long-form's grand themes. Being. Music. War. Love. Extraordinary Renditions' clear tenor hearkens the ancient masters of the novel in the most sublime way, even as it points toward that which is post-mastery."Bayo Ojikutu
Coffee House Press, 9781566892469, 183pp.
Publication Date: August 24, 2010
About the Author
Andrew Ervin grew up in the Philadelphia suburbs and has lived in Budapest, Illinois, and Louisiana. His fiction has appeared in Conjunctions, Fiction International, and the Southern Review, and his criticism has appeared in the New York Times, Philadelphia Inquirer, San Francisco Chronicle, Chicago Tribune, Washington Post, USA Today, and The Believer. Extraordinary Renditions is his first book.