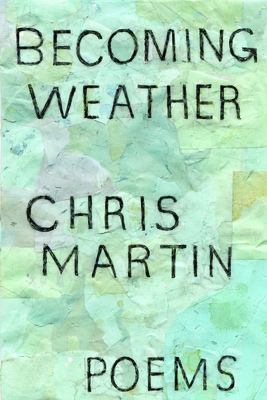 Becoming Weather (Paperback)
Coffee House Press, 9781566892599, 125pp.
Publication Date: March 15, 2011
Description
Chris Martin details daily delights, sidewalks and subways, and bulldogs at the park, giving equal attention to all. In his poems, the reader witnesses the fragmentation of the speaker's mind into particles swirling and waltzing until eventually rising into the atmosphere.
Do you explain
ice by acting
slippery?
Simply by moving we implicate the hoax
Chris Martin is the author of American Music, selected by C.D. Wright for the Hayden Carruth Award, and was named one of the Poetry Society of America's New American Poets in 2010. He currently lives in New York.
Praise For Becoming Weather…
2011 American Poet Notable Book

The best collection of poetry I've read this year to date is Becoming Weather by Chris Martin. It's confident, bold, excavating and it all feels natural."
Bran Foley, HTML Giant

Becoming Weather isn't poetry as post-structuralist paraphrase, it's a book about being-in-the-middle: of courtship, a New York commute, global crisis, phenomena and the moments of attention they attract. . . . Martin is ingenious at producing solution after solution for making the line a place of becoming rather than the static origin or fate of assertion."Geoffrey G. O'Brien in Lana Turner

[Chris Martin] feels his way toward a sense of existence that embraces but is not confined to the intellect. The honesty and rigor of this pilgrimage leads Martin to an almost euphoric state: I try/so hard to exact/things and am so densely/removed/from them, but every once/in a while I see fit/to absorb a weightless/answer, an answer without/volume, because/light is there!' This is a surprising and insightful book." Bob Hicok

Punctured as he is, Martin never loses the whole for the part: Let's say I found // my whole body's thought,' he says, as he deftly stitches his bright song through the gaps." Eleni Sikelanos

Chris Martin's airy, confident poems interview clouds and eye details in the forms other bodies hold, the spaces between them and perils therein. He is working with deftness in that rich terrain where a totalizing instability is met by the musical surety necessary to begin breaking it down." Anselm Berrigan

Becoming Weather is significant in that it addresses the dual registers of human experience, the instant and the infinite, by poems which both contain and enact this duality. . . . Martin's vocation is to voice the inspired moments of his existence, to sing the correspondence between instance and infinity, between spots of time and high virtues, between epiphanies close at hand and the void beyond what is not at hand."Sugar House Review

[Becoming Weather] concludes with the section Coda,' which consists of one poem, Being Of,' where the author finally determines the answer' so that soon / enough we can return to / our entanglements.' Whether the entanglements of our lives are less than the entanglements and philosophical musings of the collection is hard to say; Becoming Weather sweeps up the reader into the tumultuous, mind versus body, world of the speaker."NewPages

Chris Martin's latest, Becoming Weather, gives voice to his own attempt at maintaining his balance in the multiplicity of chaos, an uncommon talent increasingly practical in our culture's discombobulated post-9/11 era, where every point of view his evidence to prove it, regardless of veracity. . . . Put simply, he speaks from the edge in a voice you understand." Denver Examiner

"The precision of Martin's guidanceits wise thrill, if you like . . . is in fact careful curation from an active imagination in which syntax stays a half step ahead of sense . . . ensuring that play comes before postulation even when Martin maps out difficult meanings." The Kenyon Review
Advertisement