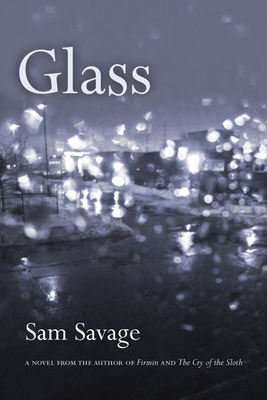 Glass
Paperback

* Individual store prices may vary.
Description
Asked by a publisher to write a preface to her late husband's novel, Edna defiantly sets out to write a separate book "not just about Clarence but also about my life, as one could not pretend to understand Clarence without that." Simultaneously her neighbor asks her to care for an apartment full of plants and animals. The demands of the living things - a rat, fish, ferns - compete for Edna's attention with long-repressed memories. Day by day pages of seemingly random thoughts fall from her typewriter. Gradually taking shape within the mosaic of memory is the story of a remarkable marriage and of a mind pushed to its limits.
Is Edna's memoir a homage to her late husband or an act of belated revenge? Was she the cultured and hypersensitive victim of a crass and brutally ambitious husband, or was he the caretaker of a neurotic and delusional wife? The reader must decide.
The unforgettable characters in Savage's two hit novels Firmin and The Cry of the Sloth garnered critical acclaim, selling a million copies worldwide. In Edna, once again Sam Savage has created a character marked by contradiction--simultaneously appealing and exasperating, comical and tragic.
Praise For Glass…
January Magazine's Best Books of 2011

"[A] dazzling, graceful novel . . . Glass gives us both a life story told well and tantalizingly in unspooled snippets, and a thoughtful rumination on the nature of late-life reflection itself. . . . Note is usually made of Savage's age upon the publication of his first novel in 2006: He was 65. But the layers of wisdom, the rapier honesty and the sheer intellectual rigor he displays in novels like Glass argue that seasoning may well trump youthful audacity in writing, perhaps the most cerebral of the arts."Minneapolis Star Tribune

[A]n intriguing story . . . Savage's skill is in creating complex first-person characters using nothing but their own voice. . . . Edna's voice, too, is unique and hypnotic, although it is full of evasions and omissions. She tells a difficult story: It is cold and critical, a fading picture in place of memory. Typically, memoir gives us the emotional high points, but Savage's Edna inverts that: She writes loneliness and tedium, the bits and pieces that are hard to look at, or that typically wind up on the cutting room floor."Carolyn Kellogg, The Los Angeles Times

Sam Savage creat[es] some of the most original, unforgettable characters in contemporary fiction. . . . Now there's Edna, the elderly widow in Glass whose ongoing, typewritten argument with her late husband, Clarence, a novelist, covers in painstaking detail the mundane particulars of a life while ultimately uncovering the transcendent power of art. . . . Readers are left with a voice so strong that Savage is able to derive significance from these events by sheer literary force."Poets & Writers

Readers who don't know that author Sam Savage (Firmin, The Cry of the Sloth) holds a PhD in philosophy from Yale until after they've read Glass will be unsurprised. The book, while a skilled piece of storytelling, reads like a philosophical exploration as much as anything else. . . . Glass is a fantastic experiment in perspective and an oddly memorable book."January Magazine, Best of 2011

"Reading like an intersection between Samuel R. Delany's The Motion of Light in Water and Marlen Haushofer's The Wall in its take on the overriding truth of memory and the heroic task of solitude, this is an original and compelling book. Highly recommended."Library Journal, starred review

Readers of Savage's Firmin (2006) and The Cry of the Sloth (2009) will come to this one with large expectations, and they won't be disappointed. . . . Savage's decision to use the point of view of an unreliable narrator will capture the attention of readers of literary fiction. The wry, bizarre humor will keep it."Booklist

There is a ruddy and ribald wisdom at work [in Glass]. . . . If you've let Sam Savage take you on previous journeys, if you've enjoyed those journeys, I wholeheartedly recommend you let him take you on his latest flight of fancy."Bookmunch

Savage is not interested in the linear unfolding of the events in Edna's life but rather in the meanings that have accreted to them as she introspectively mulls them over and tries to make sense of things. . . . An engaging study of both the quirks and the depths of personality."Kirkus Reviews

On a craft level, Glass leaves several strong impressions, at least some of which other fiction writers and students of fiction writing may find instructive. . . . Savage's skill in sustaining the reader's attention through 200 pages of apparent stream-of-consciousness may be exemplary. . . . In a novel that essentially lacks a plot, he nonetheless creates one of the most intriguing storiesand one of the most vivid charactersthat this reader has encountered this year."The Writer

Edna is hilarious, poetic, and heartbreaking, all without really trying to be. . . . [T]he glimpses of her past life are so perfectly sculpted and are teeming with gorgeous language, and her humor that cuts them short is so precise and well-played."Hazel & Wren

Glass transforms through Edna's pathology (and Savage's relentless vision) into a deeply felt exploration of memory, of what it means to outlive the sources of one's suffering. . . . Here is where the novel shines: through a Beckettian obsession with precision of language, the tension between solipsism and longing becomes primal, and through Edna, Savage creates a world so small that his reader is forced to confront the very stitching that binds together its existence, frail as that is. . . . [Glass] is profound, and readers are ultimately rewarded with a nearly voyeuristic pleasure, watching as this human life unfolds, reluctantly, in all its tragic splendor."BookPage
Coffee House Press, 9781566892735, 210pp.
Publication Date: September 13, 2011
About the Author
Sam Savage is the bestselling author of Firmin: Adventures of a Metropolitan Lowlife and The Cry of the Sloth. A native of South Carolina, Sam Savage holds a PhD in philosophy from Yale University. Savage resides in Madison, Wisconsin.