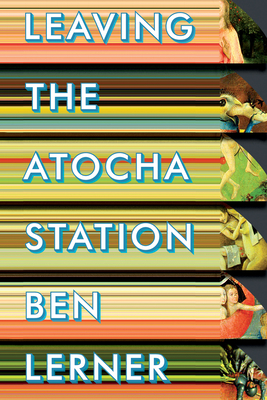 Leaving the Atocha Station
Paperback

* Individual store prices may vary.
Other Editions of This Title:
MP3 CD (9/13/2011)
Compact Disc (9/13/2011)
Description
Adam Gordon is a brilliant, if highly unreliable, young American poet on a prestigious fellowship in Madrid, struggling to establish his sense of self and his relationship to art. What is actual when our experiences are mediated by language, technology, medication, and the arts? Is poetry an essential art form, or merely a screen for the reader's projections? Instead of following the dictates of his fellowship, Adam's "research" becomes a meditation on the possibility of the genuine in the arts and beyond: are his relationships with the people he meets in Spain as fraudulent as he fears his poems are? A witness to the 2004 Madrid train bombings and their aftermath, does he participate in historic events or merely watch them pass him by?
In prose that veers between the comic and tragic, the self-contemptuous and the inspired,
Leaving the Atocha Station
is a portrait of the artist as a young man in an age of Google searches, pharmaceuticals, and spectacle.
Born in Topeka, Kansas, in 1979, Ben Lerner is the author of three books of poetry The Lichtenberg Figures, Angle of Yaw, and Mean Free Path. He has been a finalist for the National Book Award and the Northern California Book Award, a Fulbright Scholar in Spain, and the recipient of a 2010-2011 Howard Foundation Fellowship. In 2011 he became the first American to win the Preis der Stadt M nster f r Internationale Poesie. Leaving the Atocha Station is his first novel.
Praise For Leaving the Atocha Station…
Winner of The 2012 Believer Book Award

Finalist for the 2011 Los Angeles Times Book Prize (Art Seidenbaum Award for First Fiction)
Finalist for The New York Public Library's 2012 Young Lions Fiction Award

Wall Street Journals Top 10 Fiction of 2011
The New Yorkers Best of the Year in Culture 2011
Newsweek/Daily Beasts Best of 2011
The Boston Globes Best of 2011
The Guardians Best Books of 2011
Shelf Unbounds Top Ten of 2011
New Statemans Best Books of 2011

[A] subtle, sinuous, and very funny first novel. . . . [Leaving the Atocha Station] has a beguiling mixture of lightness and weight. There are wonderful sentences and jokes on almost every page. Lerner is attempting to capture something that most conventional novels, with their cumbersome caravans of plot and scene and conflict, fail to do: the drift of thought, the unmomentous passage of undramatic life. . . .James Wood, The New Yorker

"Ben Lerner's remarkable first novel . . . is a bildungsroman and meditation and slacker tale fused by a precise, reflective and darkly comic voice. It is also a revealing study of what it's like to be a young American abroad . . . Lerner is concerned with ineffability, but Adam Gordon (and the author) fight back with more than words . . . The ultimate product of Gordon's success is the novel itself." -Gary Sernovitz, The New York Times Book Review

One of the funniest (and truest) novels I know of by a writer of his generation. . . . [A] dazzlingly good novel.Lorin Stein, The New York Review of Books

Flip, hip, smart, and very funny . . . [R]eading it was unlike any other novel-reading experience Ive had for a long time. Maureen Corrigan, NPRs Fresh Air with Terry Gross

[Leaving the Atocha Station is] hilarious and cracklingly intelligent, fully alive and original in every sentence, and abuzz with the feel of our late-late-modern moment. . . . Jonathan Franzen in The Guardians Books of the Year 2011

"[A] remarkable first novel . . . intensely and unusually brilliant."The Guardian

"Utterly charming. Lerners self-hating, lying, overmedicated, brilliant fool of a hero is a memorable character, and his voice speaks with a music distinctly and hilariously all his own. Paul Auster

Leaving the Atocha Station is a marvelous novel, not least because of the magical way that it reverses the postmodernist spell, transmuting a fraudulent figure into a fully dimensional and compelling character.The Wall Street Journal

Lerners prose, at once precise and swerving, propels the book in lieu of a plot and creates an experience of something [main character Adam] Gordon criticizes more heavily plotted books of failing to capture: the texture of time as it passed, lifes white machine.The Daily Beast

[A] noteworthy debut . . . . Lerner has fun with the interplay between the unreliable spoken word and subtleties in speech and body language, capturing the struggle of a young artist unsure of the meaning or value of his art. . . . Lerner succeeds in drawing out the problems inherent in art, expectation, and communication.Publishers Weekly

Ben Lerners first novel, coming on the heels of three outstanding poetry collections, is a darkly hilarious examination of just how self-conscious, miserable, and absurd one man can be. . . . Lerners writing [is] beautiful, funny, and revelatory.Deb Olin Unferth, Bookforum

. . . Leaving the Atocha Station is as much an apologia for poetry as it is a novel. Lerners ability to accomplish both projects at once is a marvel. His sense of narrative forward motion and his penchant for rumination are kept in constant competition with one another, so that neither is allowed to keep the upper hand for long. Leaving the Atocha Station is a novel for poets, liars, and equivocatorsthat is, for aspects of us all. It is also a poem, dedicated to the gulf between self and selfego and alter ego, true me and false me, present self and outgrown past.Open Letters Monthly

If Bolao was yesterdays drug of choicedeluding us with youth, intoxicating us with a sense of literatures wilder, life-altering capacitiesLerner could be, should be, tomorrows homegrown equivalent. . . . Leaving the Atocha Station is avant slackerism as its best. Its heartening to know that someone of my generation is writing with such heart, such head, and so personally.Joshua Cohen, The Faster Times

The first novel from Ben Lerner, a finalist for the National Book Award in poetry, explores with humor and depth what everyone assumes is OK to overlook. . . . Ben Lerners phrases meander, unconcerned tourists, taking exotic day trips to surprising clauses before returning to their familiar hostels of subject and predicate. . . . [A]n honest, exciting account of what its like to be a fairly regular guy in fairly regular circumstances . . . [and] somehow its more incredible, and more modern a dilemma, than the explosives.Minneapolis Star Tribune

I admire Bens poetry, but I love to death his new book, Leaving the Atocha Station. Ben Lerners novel . . . chronicles the endemic disease of our time: the difficulty of feeling. . . [A] significant book.David Shields, Los Angeles Review of Books

In his adroitly interiorized first novel . . . Lerner makes this tale of a nervous young artist abroad profoundly evocative by using his protagonists difficulties with Spanish, fear of creativity, and mental instability to cleverly, seductively, and hilariously investigate the nature of language and storytelling, veracity and fraud. As Adams private fears are dwarfed by terrorist train attacks, Lerner casts light on how we must constantly rework the narrative of our lives to survive and flourish.Donna Seaman, Booklist

"Leaving the Atocha Station is, among other things, a character-driven page-turner and a concisely definitive study of the actual versus the virtual as applied to relationships, language, poetry, experience. Its funny and affecting and as meticulous and knowing in its execution of itself, I feel, as Bens poetry collections are.Tao Lin, The Believer

Lerner, himself an Ivy League poet and National Book Award finalist who once spent time in Madrid on a prestigious fellowship, wrestles well with absence as an event. . . . The combination of tension and languor, grounded by sensual details, recalls Javier Maras.Time Out New York

[Leaving the Atocha Station is remarkable for its ability to be simultaneously warm, ruminative, heart-breaking, and funny.Shelf Unbound

[Leaving the Atocha Station] is compelling; its jarring and painful as it is darkly funny. Lerner writes with the neurotic detachment characteristic of many of his contemporaries. . . . [T]he result is funny, insightful, honest, and very entertaining.Explosion-Proof

Perhaps its because theres so much skepticism surrounding the novel-by-poet that, when its successful, its such a cause for celebration. Some prime examples of monumental novels by poets and about poets (but not just for poets) are Boris Pasternaks Doctor Zhivago, Roberto Bolaos The Savage Detectives, and Rainer Maria Rilkes The Notebooks of Malte Laurids Brigge. Now, let us celebrate another of their rank: Ben Lerners Leaving the Atocha Station.The Jewish Daily Forward

"An extraordinary novel about the intersections of art and reality in contemporary life." John Ashbery

Acclaimed poet Ben Lerners first novel is a fascinating and often brilliant investigation of the distance (or the communication) between experience and art. . . . Rendering its subject from just about every angle, Leaving the Atocha Station becomes something close to highly self-aware, to something poetic. Zyzzyva

Last night I started Ben Lerners novel Leaving the Atocha Station. By page three it was clear I was either staying up all night or putting the novel away until the weekend. Im still angry with myself for having slept. Stacy Schiff

... Leaving the Atocha Station is an addictively readable postmodern exploration of meaning and communication, and the failure of both." Art Info

"The writing -fluid, sharp, and fast- pulls you along, rarely stumbling. Lerner understands human interaction with unusual clarity and for the egotistical Adam, every conversation is a sparring match. . .[T]he effect is striking and, unexpectedly comforting."-Iberosphere

"Linguistically, Leaving the Atocha Station is one of the most remarkable books I have read this year. Lerner is a poet, but this isn't a "poetic novel", by which I mean the kind of work where mellifluous description acts as a kind of literary toupee. Lerner's poetry manifests itself in elegantly stilted grammar, in contradiction and self-cancellation, is painfully self-aware self-mirroring and especially in misunderstanding ... The camber of Adam's thoughts is conveyed with astonishing grace." The Scotsman
Coffee House Press, 9781566892742, 181pp.
Publication Date: August 23, 2011
Coverage from NPR