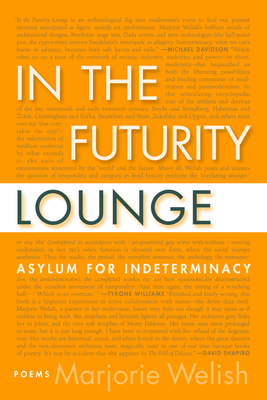 In the Futurity Lounge (Paperback)
Asylum for Indeterminacy
Coffee House Press, 9781566893022, 97pp.
Publication Date: April 30, 2012
* Individual store prices may vary.
Description
"Finished and finely wrung, this book is a linguistic experiment in active collaboration with matter-the dense data itself. Marjorie Welish, a painter in her multi-verse, leaves very little out though it may seem as if ruthless in being stark. But anaphora and lyricism lighten all passages. Her iridescent gray links her to Johns, and the very soft strophes of Morty Feldman. Her music may seem prolonged to some, but it is just long enough. I have been so impressed with her refusal of the dogmatic way. Her works are historical, social, and often lyrical in the desert, where the great dancers and the non-decorative architects meet, magically meet in one of our true baroque books of poetry. It's not by accident that she appears in
The Fold
of Deleuze."
--David Shapiro
In her new collection, painter, poet, and critic Marjorie Welish presents two books in one. "In the Futurity Lounge" may be read as that de-centered laboratory of themodern futurity lounge where experimental works are in a constant state of being constructed. Her poems are written across, through, and at the expense of urban sites, themselves part architecture, part language, including Roebling's Aqueduct, Wright's Fallingwater, Diller Scofidio + Renfro's High Line, and Rem Koolhaas's student center at Illinois Tech. "Asylum for Indeterminacy" is an extended zone of research devoted to translation constructed freely from a few given words from prior translations. Baudelaire's "Correspondences" is the provocation.
About the Author
Marjorie Welish is the author of several books of poetry. Annotated "Here" was a finalist for the Academy of American Poets Lenore Marshall Poetry Prize and a Village Voice Best Book of the Year. A professor of literature at Brooklyn College, Welish lives in New York City.
Praise For In the Futurity Lounge: Asylum for Indeterminacy…
Finished and finely wrung, this book is a linguistic experiment in active collaboration with matterthe dense data itself. Marjorie Welish, a painter in her multi-verse, leaves very little out though it may seem as if ruthless in being stark. But anaphora and lyricism lighten all passages. Her iridescent gray links her to Johns, and the very soft strophes of Morty Feldman. Her music may seem prolonged to some, but it is just long enough. I have been so impressed with her refusal of the dogmatic way. Her works are historical, social, and often lyrical in the desert, where the great dancers and the non-decorative architects meet, magically meet in one of our true baroque books of poetry. It's not by accident that she appears in The Fold of Deleuze." David Shapiro

In the Futurity Lounge is an archaeological dig into modernism's ruins to find our present moment anticipated as figure, speech act, performance. Marjorie Welish's brilliant arcade of architectural designs, Brechtian stage sets, Dada events and new technologies (the ball point pen, the typewriter) renews Baudelaire's metropole as allegory. Indeterminacy, what we can't know in advance, becomes both safe haven and exile." Michael Davidson

Welish poses and situates the question of temporality and category in lived history petitions the wayfaring stranger,' or any she' (completed in accordance with/programmed guy wires with/without/ naming undertaken in fact yet') when function is elevated over form, when the social trumps aesthetics. Thus the studio, the period, the complete sentence, the anthology, the retrospective, the commemorative, the completed works, etc. are here systematically deconstructed under the ceaseless movement of temporality." Tyrone Williams

With a nod to Louis Carroll, Shakespeare, Homer, Lorine Niedecker, Baudelaire and others, Marjorie Welish, in her excellent new book, In the Futurity Lounge, stages an elastic series of radical encounters. Sometimes paratactic, sometimes not, her virtuosic streaming image clusters and recursive internal rhyme e voc a tive" will blow you away." Norma Cole

"In the Futurity Lounge/Asylum for Indeterminacy is an experimental double-header. . . . It's a work to be grasped in the readingand rereading." Library Journal

"LangPo at its most deliciously unrepentant. Where was it we were slouching, again? and what do we do with the human mind while systems and events carry us there?"-Third Factory/Notes to Poetry