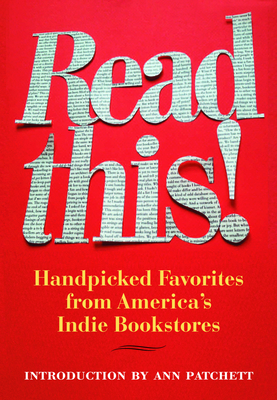 Read This! (Paperback)
Handpicked Favorites from America's Indie Bookstores (Books in Action)
Coffee House Press, 9781566893138, 200pp.
Publication Date: August 21, 2012
* Individual store prices may vary.
Description
"There is no greater joy for a bookseller than introducing a reader to a book they will love for the rest of their lives. Those of us in this business are, after all, matchmakers at heart. So consider this little book you now hold in your hands a sort of catalog of matchmakers."--Ann Patchett
"If I were still a bookseller, I'd be thrilled to share this wealth with my customers. As a reader, I'm deeply intrigued by the range of selections. . . . Do yourself a favor. Add Micawber's Top 50 project to your must-read list."--Robert Gray, Shelf Awareness
This book offers lists of favorites that have flown under the radar, but off of bookstore shelves. First published on Hans Weyandt's blog for Micawber's Books, each list includes a bookseller's top fifty books, anecdotes, and interviews about the life of being a bookseller, reader, and engaged citizen. All proceeds will go to American Booksellers Foundation for Free Expression (ABFFE).
Contributing bookstores include Book Passage, Tattered Cover Book Store, Three Lives & Company, Boswell Books, City Lights Bookstore, BookCourt, Harvard Book Store, Carmichael's Bookstore, Prairie Lights, The King's English Bookshop, Square Books, Magers & Quinn, Micawber's Books, Unabridged Bookstore, Regulator Bookshop, Subterranean Books, Faulkner House Books, Skylight Books, Maria's Bookshop, Inkwood Books, Rakestraw Books, RiverRun Bookstore, Sherman's Books and Stationary, Iowa Book, and Fireside Books.
Hans Weyandt is a co-owner at Micawber's Books, an independent bookstore in St. Paul, Minnesota.
Ann Patchett is the best-selling author of five novels, including Run, Bel Canto, and most recently, State of Wonder. She owns Parnassus Bookstore in Nashville, Tennnessee.
About the Author
Hans Weyandt: Hans Weyandt is a co-owner at Micawber's Books, an independent bookstore in St. Paul. He lives in Minneapolis.
Praise For Read This!: Handpicked Favorites from America's Indie Bookstores (Books in Action)…
Selected as the nonfiction pick in the Fall 2012 Great Lakes Great Reads by the Great Lakes Independent Booksellers Association!

"These professionals demonstrate exceptional curatorial care and a discernible passion for the art of bookselling, a craft Weyandt calls a 'combo platter of bartender/barista and priest.'[I]n sharing titles and ideas, handselling becomes, as bookseller and author Eowyn Ivey of Fireside Books remarks, 'a small but heartfelt gift, one reader to another.' Entertaining, informative, satisfying and funeverything books should be."Kirkus

"I love this little book, and I think you might, too....I guarantee you'll come away with a whole slew of things on your 'to-read' list and a renewed affection and appreciation for your neighborhood bookslingers."-Knight Arts Blog

"[R]ead This! compiles. . .expertise of booksellers from all over the country into one cheerful red volume."-Los Angeles Times

"If books are conversations between people through the ages, then our booksellers are those keeping the communication alive. That's why Read This! is a deceptively powerful book."The Rumpus, Interview with Hans Weyandt
or
Not Currently Available for Direct Purchase