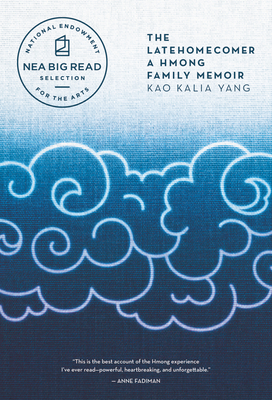 The Latehomecomer
A Hmong Family Memoir
Paperback

* Individual store prices may vary.
Description
An NEA Big Read Selection
"This is the best account of the Hmong experience I've ever read--powerful, heartbreaking, and unforgettable."--Anne Fadiman, author of The Spirit Catches You and You Fall Down
"A narrative packed with the stuff of life." --Entertainment Weekly
Kao Kalia Yang is the author of The Song Poet and The Latehomecomer, which was a finalist for the PEN/John Kenneth Galbraith Award and the Asian American Literary Award, and received the 2009 Minnesota Book Award.
Coffee House Press, 9781566894784, 312pp.
Publication Date: April 11, 2017
About the Author
Kao Kalia Yang is a teacher, public speaker, and writer. Yang is the author of the award-winning book, The Latehomecomer: A Hmong Family Memoir (Coffee House Press, 2008) and the book, The Song Poet (Metropolitan Books, 2016). She is a graduate of Carleton College and Columbia University's School of the Arts. Kao Kalia lives in Minneapolis, Minnesota with her family.
1. The Hmong language is intimately tied to Yang's experience of, and expression of, Hmong culture. Her arrival in the United States means learning English and having to navigate a new culture in that language. How do the languages of our families, communities, and cultures color how we inhabit those spaces? How do they create and sustain those bonds?
2. Yang's grandmother is a powerful figure in The Latehomecomer, and her resourcefulness and wisdom in many ways make possible the family's journey from Laos to Minnesota. The attention to her role in their story is one of many ways the author focuses the story on others, making this a "family memoir." How does that choice affect your reading of the book? What does it mean for an author to define "self " in the context of "family"?
3. The United States was populated by colonized Native peoples, voluntary migrants, refugees whose migration was coerced by conditions at home, and slaves. How do the complexity of our origin stories and learning about the conditions under which Hmong families like the Yangs arrived change your understanding of citizenship, Americanness, and home?
4. When the Yangs cross the Mekong, they're forced to leave their family photos behind. How do belongings carry meaning in The Latehomecomer? What other objects take on significance beyond their utility in the book? the latehomecomer 279
5. Yang pays close attention to her characters' surroundings—we can see, smell, and hear the mountains of Laos, the refugee

camps in Thailand, and the family's first winter in St. Paul. How does evoking the spaces her family inhabits create emotion?

How do those contrasts give weight to their journey?