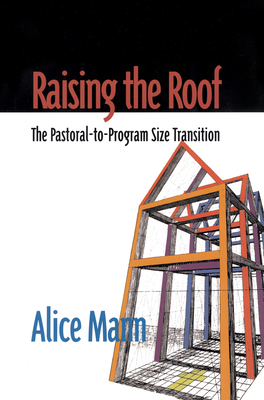 Raising the Roof
The Pastoral-to-Program Size Transition
Paperback

* Individual store prices may vary.
Description
Pastoral-to-program size change is frequently described as the most challenging of growth transitions for congregations. Now Alban senior consultant Alice Mann, author of The In-Between Church: Navigating Size Transitions in Congregations, addresses the difficulties of that transition in this resource designed specifically for a congregational learning team. Conceptualized and developed by Mann for an Alban on-line seminar program test event conducted with 12 congregations in transition, her newest book features a five-step process enabling the learning team to engage a wider circle of congregational leaders and members in study, discernment, and planning. Never-before published resources include discussion of a major new concept-passive barriers to growth-plus Mann's "System Change Index" tool to help congregations measure their progress from pastoral-size to program-size ways of operating. From preparing the congregation's board and members, selecting the person to guide the learning process, and recruiting the learning team, to creating and celebrating a plan for congregational learning and action, Mann provides all the resources a congregation needs to address this significant size transition period.
Rowman & Littlefield Publishers, 9781566992541, 184pp.
Publication Date: December 1, 2001
About the Author
Alice Mann is an Episcopal priest, has pastored six congregations, and is currently a Senior Consultant with the Alban Institute. Her areas of expertise include growth strategies, leadership skills, strategic planning, and spirituality. Her other Alban title include The In-Between Church, Size Transitions in Congregations, and Can Our Church Live? She is the co-author of Holy Conversations: Strategic Planning as a Spiritual Practice for Congregations.