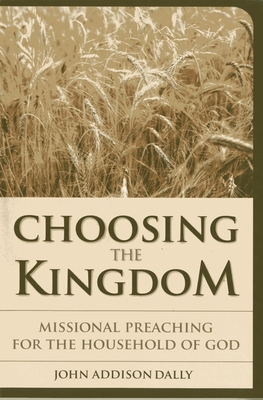 Choosing the Kingdom (Paperback)
Missionapb (Vital Worship Healthy Congregations)
Rowman & Littlefield Publishers, 9781566993593, 146pp.
Publication Date: January 1, 2008
* Individual store prices may vary.
Description
Today the Christian faith is moving through one of the greatest sea changes in its two thousand year history, and we can no longer assume we know exactly what kind of animal preaching is or ought to be. Choosing the Kingdom is both a work of theology and a how-to guide for preachers who want to rethink both the form and the content of their preaching to move a congregation from maintenance to mission. As a post-Christendom church reorients itself toward the mission of God, what might preaching look like? If we're truly living through one of the great sea changes in the history of the Christian faith, can preaching remain the same? Do we speak as bureaucrats in an imperial hierarchy, anticipating automatic acceptance of our message, or as servants of the reign of God, bringing news of God's activity in history as fresh as today's headlines? Is the announcement of the gospel a demand for submission or an invitation to wisdom? Choosing the Kingdom explores these issues and offers an entirely new orientation to sermon preparation. It offers concrete suggestions for a reconception of preaching for those whose imaginations have already been captured by the possibilities inherent in a missional identity.
About the Author
John Dally is Associate Professor of Christian Communication at Seabury-Western Theological Seminary in Evanston, IL. From 2000-2005 he also served as Executive Director of the Seabury Institute, the seminary's advanced studies in congregational development program. Ordained a priest of the Episcopal Church in 1982, John served as a full-time pastor for sixteen years before joining the faculty of the seminary.