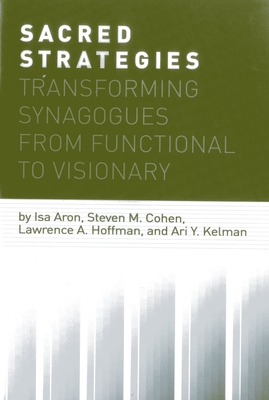 Sacred Strategies
Transforming Synagogues from Functional to Visionary
Paperback

* Individual store prices may vary.
Description
Sacred Strategies is about eight synagogues that reached out and helped people connect to Jewish life in a new way--congregations that had gone from commonplace to extraordinary. Over a period of two years, researchers Aron, Cohen, Hoffman, and Kelman interviewed 175 synagogue leaders and a selection of congregants (ranging from intensely committed to largely inactive). They found these congregations shared six traits: sacred purpose, holistic ethos, participatory culture, meaningful engagement, innovation disposition, and reflective leadership and governance. They write for synagogue leaders eager to transform their congregations, federations and foundations interested in encouraging and supporting this transformation, and researchers in congregational studies who will want to explore further. Part 1 of this book demonstrates how these characteristics are exemplified in the four central aspects of synagogue life: worship, learning, community building, and social justice. Part 2 explores questions such as: What enabled some congregations to become visionary? What hindered others from doing so? What advice might we give to congregational, federation, and foundation leaders? The picture that emerges in this book is one of congregations that were entrepreneurial, experimental, and committed to 'something better.'
Rowman & Littlefield Publishers, 9781566994019, 282pp.
Publication Date: May 17, 2010
About the Author
Isa Aron is professor of Jewish education at the Rhea Hirsch School of Education, Hebrew Union College-Jewish Institute of Religion, and was the founding director of the Experiment in Congregational Education, a project of the RHSOE now in its eighteenth year. She is the author of Becoming a Congregation of Learners and The Self-Renewing Congregation. Steven M. Cohen is research professor of Jewish social policy at Hebrew Union College-Jewish Institute of Religion and director of the Berman Jewish Policy Archive at NYU Wagner. With Arnold M. Eisen he wrote The Jew Within, and with Charles Liebman he wrote Two Worlds of Judaism: The Israeli and American Experiences. His earlier books include American Modernity & Jewish Identity and American Assimilation or Jewish Revival? Lawrence Hoffman is the Barbara and Stephen Friedman Professor of Liturgy, Worship and Ritual, and the co-founder of Synagogue 2000 (now Synagogue 3000). For over thirty years, he has taught classes in liturgy, ritual, theology, and synagogue leadership. He has written or edited over 35 books, including Rethinking Synagogues: A New Vocabulary for Congregational Life, which is widely used by congregations of all denominations engaged in transformational change. Ari Y. Kelman is an assistant professor of American studies at the University of California, Davis. He is the author of Station Identification: A Cultural History of Yiddish Radio and co-author of a number of influential studies of contemporary Jewish identity, community, and culture.
or
Not Currently Available for Direct Purchase