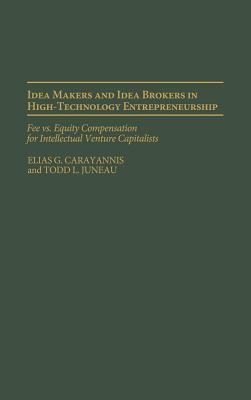 Idea Makers and Idea Brokers in High-Technology Entrepreneurship (Hardcover)
Fee vs. Equity Compensation for Intellectual Venture Capitalists
Praeger Publishers, 9781567204568, 209pp.
Publication Date: July 30, 2003
* Individual store prices may vary.
Description
Among the most vexing challenges for entrepreneurs is how to avail themselves of the necessary services--intellectual venture capital--without burning through their seed money at a rate that makes further borrowing prohibitively expensive. Traditionally, professional firms have charged entrepreneurs a fee for their services, based on billable hours and effort. Yet in the past decade, an alternative model has emerged that obviates the entrepreneurs' conundrum while still satisfying the needs of the service provider.
The alternative is an equity-for-services arrangement, whereby professionals are rewarded for their work with a stake in the new venture, to be redeemed at a later date at an initial public offering (IPO), for example, or when a trust fund matures. Both parties can benefit under such an arrangement. The entrepreneur benefits by being able to afford patent attorneys, public relations consultants, recruiting firms, and all the other knowledge providers crucial to the success of a new venture, and the intellectual venture capitalists have an incentive to work toward the long-term success of the startup. This book outlines the potential risks and rewards of equity compensation, enabling both service providers and entrepreneurs to make informed decisions.
About the Author
ELIAS G. CARAYANNIS is Professor of Management Science at the School of Business and Public Management at The George Washington University.TODD L. JUNEAU is Partner in Nath & Associates, a law firm in Washington, D.C.