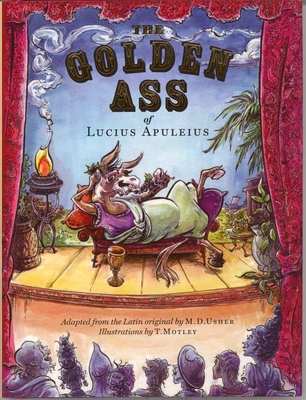 The Golden Ass: Of Lucius Apuleius (Hardcover)
Of Lucius Apuleius
David R. Godine Publisher, 9781567924183, 85pp.
Publication Date: October 31, 2011
Description
The Golden Ass has been a favorite of the private presses and illustrators since the invention of printing. Apuleius's comic masterpiece, originally composed in Latin in the second century, traces the hilarious misadventures of a young man a tad too curious about magic for his own good. Hoping to change himself into an owl, he turns himself into a donkey instead, and in this guise is sold, stolen, or otherwise shunted from one master to the next.
M.D.Usher's creative adaptation brings the tale alive "for young readers of all ages." Classical scholars will admire its faithfulness and clever innovations, while new readers young and old will enjoy its freshness and accessibility. Motley's lively, contemporary drawings capture the boisterous, see-sawing plot, while wittily quoting any number of graphic predecessors. Here is illustration at its best, at once illuminating and expanding a text while bringing it squarely into a new century
Advertisement