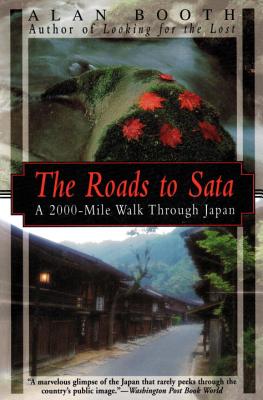 The Roads to Sata (Paperback)
A 2000-Mile Walk Through Japan
Kodansha Globe, 9781568361871, 302pp.
Publication Date: August 14, 1997
* Individual store prices may vary.
Description
ALAN BOOTH'S CLASSIC OF MODERN TRAVEL WRITING


Traveling only along small back roads, Alan Booth traversed Japan's entire length on foot, from Soya at the country's northernmost tip, to Cape Sata in the extreme south, across three islands and some 2,000 miles of rural Japan. The Roads to Sata is his wry, witty, inimitable account of that prodigious trek.


Although he was a city person—he was brought up in London and spent most of his adult life in Tokyo—Booth had an extraordinary ability to capture the feel of rural Japan in his writing. Throughout his long and arduous trek, he encountered a variety of people who inhabit the Japanese countryside—from fishermen and soldiers, to bar hostesses and school teachers, to hermits, drunks, and tramps. His wonderful and often hilarious descriptions of these encounters are the highlights of these pages, painting a multifaceted picture of Japan from the perspective of an outsider, but with the knowledge of an insider.


The Roads to Sata is travel writing at its best, illuminating and disarming, poignant yet hilarious, critical but respectful. Traveling across Japan with Alan Booth, readers will enjoy the wit and insight of a uniquely perceptive guide, and more importantly, they will discover a new face of an often misunderstood nation.
About the Author
ALAN BOOTH was born in London in 1946 and traveled to Japan in 1970 to study Noh theater. He stayed, working as a writer and film critic, until his untimely death from stomach cancer in 1993. His highly praised Looking for the Lost is also available from Kodansha Globe.
Praise For The Roads to Sata: A 2000-Mile Walk Through Japan…
"A marvelous glimpse of the Japan that rarely peeks through the country's public image."—Washington Post Book World



"An illuminating book."—The Economist



"Alan Booth has given us a memorable, oddly beautiful book."—Asian Wall Street Journal



"Fluent in the language, well-informed and disabused, [Booth] is in the fine tradition of hard-to-please travelers like Norman Douglas, Evelyn Waugh, and V.S. Naipaul. A sharp eye and a good memory for detail...give an astonishing immediacy to his account."—Frank Tuohy, Times Literary Supplement



"Alan Booth was not only the best travel writer on Japan, but one of the best travel writers in the English language."—Ian Buruma, author of The Wages of Guilt



"[Booth] achieved an extraordinary understanding of life as it is lived by ordinary Japanese....Frequently brilliant in his insights."—F.G. Notehelfer, The New York Times Book Review



"One of the best foreign observers of Japan today...his book is unsurpassed."—Far Eastern Economic Review



"To Travel with Alan Booth is to travel in very civilized company indeed, but also close to the ground. He has a mind that illuminates and enlivens everything it encounters."—Nigel Barley, author of The Innocent Anthropologist



"Booth's capacity for rueful, discerning observation will keep him in the front ranks of travel writers for years to come."—Kirkus