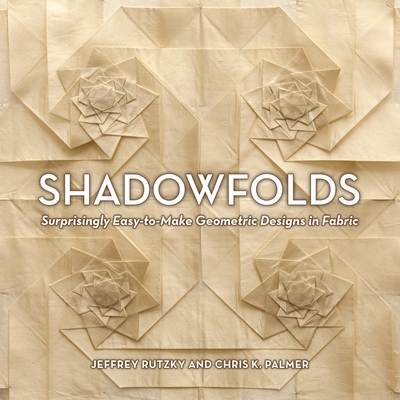 Shadowfolds
Surprisingly Easy-to-Make Geometric Designs in Fabric
Hardcover

* Individual store prices may vary.
Description
Shadowfolds are a rich blend of traditional motifs expressed in a contemporary style. The technique, pioneered by artist Chris K. Palmer, creates patterns from a single, uncut panel of cloth, using a simple, three-step process.


In Shadowfolds, Jeff Rutzky, himself an accomplished and passionate origamist, and Palmer offer detailed and fascinating information about the technique and its origins in both Moorish tile and classic Japanese origami. Palmer first encountered the elaborate mosaics of the Alhambra and became intrigued with learning to translate these patterns into folded paper. He turned for inspiration to the work of Japanese origami masters Tomoko Fuse, Jun Maekawa, Toshikazu Kawasaki and Shuzo Fujimoto, as well as to the great American origami artists Robert Lang and Peter Engel.


The transition to working in cloth followed. The flexible property of cloth allows pleats to be folded to augment and give a dimensionality not present in a flat surface; and the translucent quality adds a unique intricacy to the geometric patterns. When lines in a pattern are folded as pleats, the resulting shapes formed by the pleats become part of the artistic expression of the material.


The possibilities for using Shadowfolds in design are limitless. Some applications take advantage of light shining through the fabric, others show the richness of the folds that have a depth all their own. In addition to explaining the three very simple steps of the technique, the authors show how even novice folders can create breathtaking works of textile art, as well as fashion-forward clothes, accessories and home furnishings incorporating these three-dimensional embellishments. They also include a section of patterns, and fabric and craft resources.
Kodansha America, 9781568363790, 128pp.
Publication Date: February 1, 2011
About the Author
Jeffrey Rutzky has always had a passion for arts and crafts, and has integrated them with his desktop publishing skills to create unique works of art. He is also the author and designer of several papercraft books, including Kirigami Kit, TearPlanes, Jewelgami, and Bugagmi. Rutsky works as an artist and graphic designer in New York City.


Chris K. Palmer is a professional artist who has been designing and folding origami since childhood. In Granada, Spain, he was inspired by the mosaic tilings of the Alhambra. Persistent effort and study of the Japanese hira-ori technique led Palmer to make the leap from paper folding to Shadowfolds. Palmer has taught art and architecture at the Illinois Institute of Technology and the University of Colorado at Boulder. He now resides in California.
or
Not Currently Available for Direct Purchase