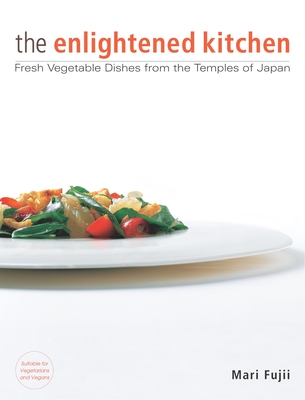 The Enlightened Kitchen
Fresh Vegetable Dishes from the Temples of Japan
Hardcover

* Individual store prices may vary.
Description
Nourish body and soul with simple, delicious food from Japan's temples.


The Enlightened Kitchen introduces readers to shojin ryori, the traditional vegetarian cooking of Japan's Buddhist temples. Shojin food, with its emphasis on fresh, seasonal vegetables, staples such as seaweed, grains and tofu, and natural flavorings rather than chemical additives, is a highly nutritious and delicious alternative to the many unhealthy eating habits of Western society. In addition to its health benefits, the preparation and eating of shojin food in Buddhist temples has great spiritual significance. After spending their days in rigorous selfdiscipline, the monks welcome mealtimes as a soothing respite, both for those preparing the food with loving care and for those eating it withrelaxed enjoyment.


Stunning color photographs accompany more than sixty recipes for soups, salads, tofu and bean dishes, vegetables, rice and desserts. The author, Mari Fujii, married to a Buddhist monk and an expert in shojin food for more than twenty years, presents an array of recipes including: Carrot and Mushroom Soymilk Soup, Steamed Pumpkin and Tofu, Beans and Eggplant with Sesame Dressing, Ginger Rice and Banana Tempura. Her step-by-step instructions are easy to follow, and she has made an effort to use ingredients that are readily available in most good supermarkets. Fujii includes a guide to basic cooking techniques used in the preparation of shojin food, an extensive glossary of ingredients and equipment, and fascinating background information on the history and philosophy of shojin ryori. Perfect for vegans, vegetarians and anyone interested in healthful eating, the dishes from The Enlightened Kitchen will warm our hearts, sustain our souls, and fortify us inside and out.
Praise For The Enlightened Kitchen: Fresh Vegetable Dishes from the Temples of Japan…
"The book is beautifully illustrated and the recipes are mostly simple, quick and easy to follow. Longtime vegetarians, especially those with a macrobiotic background (which in America has seriously deep Japanese roots), will be familiar with many of these ingredients. . . Fujii provides a helpful, illustrated glossary, as well as some basic how-to material for preparing staples." —Associated Press



"Vegetarians, vegans and even lovers of steak teriyaki will find much to savor in this introduction to the quiet wonders of Buddhist temple cuisine, or shojin ryori. ...Tae Hamamura's color photographs are mouth-watering, whether depicting Kenchin Style Vegetable Soup or a simple bowl of Ginger Rice." —Publishers Weekly



"Clean and crisp, this nourishing guide brings a healthy, natural culinary tradition from Japanese temples to the American table. . . . a true antidote to the overindulgent American diet, this is more than a recipe collection--it's a refreshing approach to food that is sure to make you look and feel renewed." —Kirkus Reviews



"Emphasizing natural and healthy ingredients such as fresh seasonal vegetables, and the staples of grains, and tofu, these creations are simple and elegant delights, delicious without undue extravagance. . . . Highly recommended." —Midwest Book Review



"Touting the benefits of vegetarian and vegan diets, The Enlightened Kitchen presents dishes that anyone would love, while the fantastic photographs will tempt even the most die-hard carnivore to at least try the recipes. Knowing that a healthy life-style and long life takes work, this new cookbook espouses good, sensible meals which can encourage weight loss and improve insulin sensitivity. The bonus? The food tastes good.... I'm hooked. I try to eat sensibly and plan to live to be 110! I expect The Enlightened Kitchen to help me meet my objective." —BookLoons.com
Kodansha International, 9781568364360, 112pp.
Publication Date: September 21, 2012
About the Author
MARI FUJII learned the secrets of shojin cooking over twenty years ago from her husband, who is a Buddhist monk. With the publication of a number of shojin cookbooks and regular appearances on television, she has helped to make shojin cuisine popular in her home country of Japan. She is also an expert in Chinese-style shojin cooking and in yakuzen, a style of Chinese cooking which uses ingredients with medicinal properties.