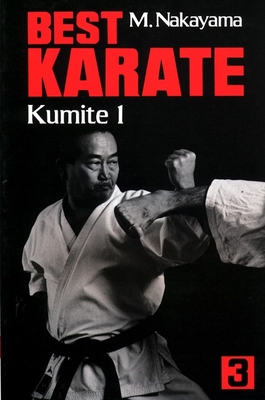 Best Karate, Vol.3
Kumite 1 (Best Karate Series #3)
Paperback

* Individual store prices may vary.
Other Editions of This Title:
Paperback (11/9/2012)
Paperback (11/9/2012)
Description
In kumite (sparring) basic techniques are sharpened and body movement and distancing acquired through practical application. This volume explains the types and meaning of kumite and the relation between jiyu kumite and basic training in fundamentals.


Demonstrated by instructors of the Japan Karate Association. As well as setting forth the basic rules that must be put into practice when performing kata or applying techniques in kumite, this volume pinpoints the underlying physical and physiological principles of karate: source and concentration of power; stance, form, stability and technique; movement in all directions; basic and comprehensive aspects of training.
Praise For Best Karate, Vol.3: Kumite 1 (Best Karate Series #3)…
"Teaches all aspects of the art." —Library Journal
Kodansha International, 9781568365343, 144pp.
Publication Date: August 30, 2013
About the Author
MASATOSHI NAKAYAMA carries on the tradition of his teacher, Gichin Funakoshl, the Father of Modern Karate. Long professor and director of physical education at Takushoku University, his alma mater (1937), he was chief instructor of the Japan Karate Association from 1955 until his death in 1987. A ninth degree black belt and a familiar face at tournaments, he was among the first to send instructors overseas and to encourage the development of karate along scientific lines.