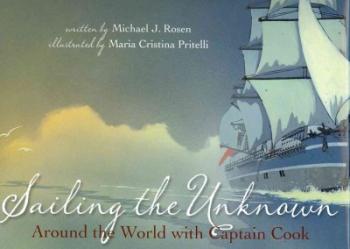 Sailing the Unknown (Hardcover)
Around the World with Captain Cook
Creative Editions, 9781568462165, 40pp.
Publication Date: August 29, 2012
* Individual store prices may vary.
Description
In 1768, an 11-year-old sailor named Nicholas took to the seas with British explorer James Cook on a 3-year expedition of discovery, venturing into an uncharted world filled with strange lands, mysterious peoples, and peculiar creatures. Sailing the Unknown, written by Michael J. Rosen in the shorthand style of a historical journal and illustrated with panoramic vistas by Maria Cristina Pritelli, depicts this historic journey from the viewpoint of young Nick.
About the Author
Michael J. Rosen, creator of more than 90 books, holds degrees in zoology and poetry and served for nearly 20 years as literary director of the Thurber House in Columbus, Ohio.

Maria Cristina Pritelli is a self-taught Italian artist whose work has been published internationally and selected three times for the Illustrators Exhibition at the Bologna Children's Book Fair.
Praise For Sailing the Unknown: Around the World with Captain Cook…
Nicholas Young, 11, circles the globe in this gorgeously illustrated seafaring adventure loosely based on journals of 18th-century explorer Capt. James Cook. Seasoned children's poet Rosen here creates the likable character of young protagonist Nick through spare journal entries describing his travels aboard Cook's first ship, Endeavour, which set sail from Plymouth, England, on August 19th, 1768, on a voyage of over 1,000 days. A young delinquent enlisted to serve aboard this exploratory vessel, Nick chronicles life as Endeavour's youngest sailor, tasked with menial jobs including care of the ship's milk goat, Navy. The voyage take Nick and Cook's sundry crew of sailors and scientists to then uncharted "Australis," stopping en route at the Canary Islands, the Equator-where crew members not having crossed before were "thrice dunked" in the sea-and Rio de Janeiro, as the Northern Hemisphere's summer morphs to the Southern's snowy winter. Further southwest, Nick is the first to spy New Zealand, where the ship is immediately beset by a rain of spears from the local Maori. Throughout this exotic discovery tale, Pritelli's finely wrought acrylics capture both the action and the otherworldly allure of strange lands, peoples and endless sea by casting them often in a milky blue, deep and mysterious as Picasso's. Visually stunning and packed with sophisticated language and intrigue, this young sailor's log is sure to hook any budding explorer. - Kirkus Reviews Starred Review
or
Not Currently Available for Direct Purchase