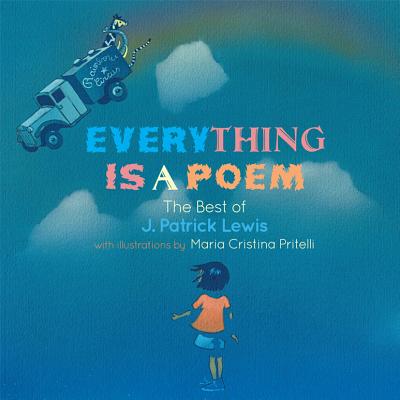 Everything is a Poem (Hardcover)
The Best of J. Patrick Lewis
Creative Editions, 9781568462400, 88pp.
Publication Date: August 19, 2014
* Individual store prices may vary.
Description
J. Patrick Lewis did not come under poetry's spell until late in life—but when it struck, the former college economics professor was entranced.This collection celebrates some of his best poems for children—some silly, some serious, some historical, some invention, but all aimed to delight.The vibrant and playful illustrations of Italian artist Maria Cristina Pritelli lend a sense of vitality to the words, underscoring the idea that Everything Is a Poem.
About the Author
J. Patrick Lewis spent years as an economics professor before finding his passion as a writer. Today he holds an esteemed reputation in children's publishing, having authored more than 70 picture books, including such acclaimed titles as Black Cat Bone and The House. In 2011, he was honored with the NCTE Poetry Award and chosen to serve as the Children's Poet Laureate.

Maria Cristina Pritelli is a self-taught Italian artist who began illustrating children's books after being inspired by the work of artist Giacinto Gaudenzi. Her work has been published internationally and selected three times for the Illustrators Exhibition at the Bologna Children's Book Fair.
Praise For Everything is a Poem: The Best of J. Patrick Lewis…
". can be read simply for enjoyment, or used as a springboard for classroom activities." - School Library Journal

"An engaging collection of greatest hits by the former U.S. Children's Poet Laureate. In the foreword to his latest collection, the award-winning author of 85 picture books;Harlem Hellfighters and former economics professor admits he discovered poetry only after turning 40 and prides himself on not having a distinctive poetic style or voice. For Lewis, "the poem is always more important than the poet," and the varied subjects of these 60-odd poems underscore the sincerity of his belief. Here, with Italian illustrator Pritelli's arrestingly evocative airbrushed acrylic spreads, Lewis offers light glimpses into the realms of animals, places, people, nature and reading, as well as a delightful mix of riddles and epitaphs. Taking his cue from the likes of Carroll and Lear, Lewis thrills in nonsense, imploring readers, 'Please bury me in the library / with a dozen long-stemmed proses,' or neatly summing up on a baseball-glove-shaped tombstone the truncated life of a pitcher: 'No runs, / no hits, / no heirs.' In more serious moments, Lewis employs his masterful descriptive abilities to capture natural phenomena such as fireflies-'The speckled air / Of summer stars / Alive in jars'-while repeatedly making use of his exquisite ear. For beginning readers on up, the points of attachment are many in this hefty volume of mostly light verse." - Kirkus Reviews
or
Not Currently Available for Direct Purchase