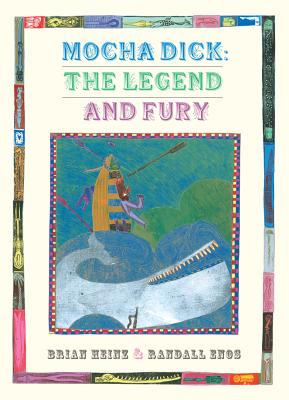 Mocha Dick
The Legend and Fury
Hardcover

* Individual store prices may vary.
Description
"A tour de force of design, story and illustration." - Kirkus Starred Review

In 1839, Herman Melville was among the New Yorkers who thrilled to a magazine account of a white sperm whale's attacks on whaling ships. That whale was named Mocha Dick, but 12 years later, he would be immortalized in fiction as Moby-Dick. Believed to have been active from 1810 to 1859, Mocha Dick was infamous for the ferocity of his retaliations against those who attempted to capture him. From the first recorded encounter near the South American island of Mocha till the fatal harpoon blow, Mocha Dick was a legend in his own time. In language befitting a sea lore, author Brain Heinz describes characteristic episodes of the great whale's life, as illustrator Randall Enos animates the tale in a textured style evocative of scrimshaw.
Praise For Mocha Dick: The Legend and Fury…
"For nearly 50 years, a huge albino sperm whale spotted off Isla Mocha (whence the name Mocha Dick) antagonized whalers by aggressively attacking and evading their ships, and tales of this legendary leviathan went on to inspire Herman Melville to write Moby Dick. Heinz and Enos dramatize a few accounts of Mocha Dick's activity in this beautifully designed picture book. When whalers spot Mocha Dick in 1810 and he handily escapes their harpoons, the sailors already note his scarred appearance. From then on, reports of an unstoppable white whale attacking whalers and even preventing dead whales from being brought aboard continue to roll in until 1859, when Mocha Dick is reported dead. Enos' linocut illustrations are simply stunning-each mesmerizing, scrimshaw-like composition contains a jumble of textures and brassy colors in each thrilling scene, from the concentric loops of a roiling sea to the rough, jagged shape of a crushed hull. The whale appears both vicious and mischievous, adding an extra dose of drama to Heinz' descriptive lines. While a list of sources or further reading would have been useful, most kiddos will be utterly entranced by the folk art-style illustrations, which seem to tell the story enough on their own." -Sarah Hunter, Booklist Starred Review

"Heinz's (Red Fox at McCloskey's Farm) history of the whale that inspired Melville's Moby-Dick is beautifully written, magnificently illustrated, and agonizing to read. The white whale Mocha Dick, named for the island off Chile whose waters he frequented, was hunted and wounded, but survived: 'Six teeth were shattered, one eye made blind.' His encounter with a harpoon made him a warrior bent on revenge. He pursued whalers and attacked them, sinking harpooners' boats and sending sailors to the bottom of the sea before he was tracked down and slaughtered by those whose cruelty drove him mad. Enos's (My Full Moon Is Square) superb linocuts recall 19th-century folk art. He combs the waves with curls and swells, then breaks them with the bulk of the breaching whale. The sailors who tumble out of their boats cry out of gaping, toothy mouths. In the borders, neatly labeled portraits of sea life and whaling tools ignore the mayhem within. Only the most resolute readers will come away unaffected: 'Mocha Dick made a final lunge, but his strength ebbed away. His spirit was broken.'" - Publishers Weekly

"Randall's gorgeous linocut collage illustrations, to which the screen does no justice whatsoever, lend Heinz's lyrical narrative dimension and magic that render the end result utterly enchanting." - Brain Pickings

"This eye-catching picture book presents the history of the legendary sperm whale behind the Herman Melville classic. The sperm whale Mocha Dick was first sighted in 1810 off the coast of Chile, and over the course of almost 50 years, he waged over 100 battles with whalers. Sailors referred to him as 'the White Whale of the Pacific.' Mocha Dick's legendary status sprang from his behavior as the hunter, rather than the hunted. He attacked whaleboats and whaling ships, and when he was finally killed, he had the rusting heads of 19 harpoons in his body. This engrossing tale-told with an expert succinctness by Heinz-avoids the tendency to romanticize 19th-century whaling and instead tells a plain-speaking story of a whale fighting for its life and its right to live. Enos pairs the crisp words with distinctive illustrations reminiscent of scrimshaw blended with primitive woodcuts, giving the story an old-fashioned (but not nostalgic), nautical feel. In its overall design, the book manages to inflect what often looks like a 19th-century sensational newspaper story with a more modern sensibility of empathy for hunted whales. In doing this, it has achieved that goal of all good picture books-an entity far greater than its parts. A tour de force of design, story and illustration. - Kirkus Starred Reviews

"This intricately designed picture book tells the story of the real life whale that inspired Herman Melville's Moby-Dick. The tale begins in 1810, near the island of Mocha, with the spotting of a sperm whale by a whaling crew. The ship gave chase, harpooning the whale, who burst from the water, attacking the small boat ('The huge head shook savagely until only splinters remained.'). Christened Mocha Dick by the sailors, this giant continued to battle with whaling crews over the years, most famously sinking the 238-ton Essex in 1820, until meeting his end in 1859. Heinz's text relies on powerful imagery to convey the strength and magnificence of the whale ('Droplets fell like jewels upon his back. His flukes hammered the surface like a cannon shot.'), while Enos's linocut collage illustrations, surrounded by colorful borders, are reminiscent of scrimshaw and capture the story's action well. Pair this exciting title with Eric Kimmel's Moby Dick: Chasing the Great White Whale (Feiwel & Friends, 2012) to contrast the real and fictional whales or with Nathaniel Philbrick's Revenge of the Whale: The True Story of the Whaleship Essex (Penguin, 2002) to give students more information on the Essex." -School Library Journal Starred Review
Creative Editions, 9781568462424, 32pp.
Publication Date: August 19, 2014
About the Author
Brian Heinz is the critically acclaimed author of 15 books for young readers and is sought after as a speaker on the craft of writing. He and his wife Judy split their time between homes in New York's Wading River and the Adirondacks.

Randall Enos has illustrated for books, magazines, and newspapers for more than 50 years. Born of Portugeuse Azorean heritage in the former whaling capital of the world (New Bedford, Massachusetts), he has carried with him a lifelong interest in the history of whaling.
or
Not Currently Available for Direct Purchase