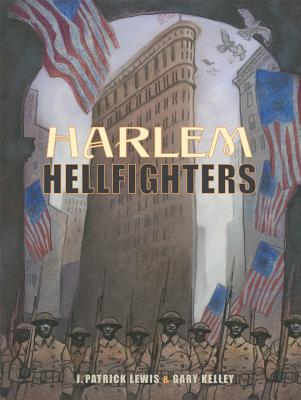 Harlem Hellfighters
Hardcover

* Individual store prices may vary.
Description
"Lewis's poetics are perfectly complemented by Kelley's evocative pastel illustrations, which both inspire and unsettle." –New York Times

They went by many names, but the world came to know them best as the Harlem Hellfighters. Two thousand strong, these black Americans from New York picked up brass instruments—under the leadership of famed bandleader and lieutenant James Reese Europe—to take the musical sound of Harlem into the heart of war. From the creators of the 2012 Boston Globe–Horn Book Award Honor Book, And the Soldiers Sang, this remarkable narrative nonfiction rendering of WWI -- and American -- history uses free-verse poetry and captivating art to tell century-old story of hellish combat, racist times, rare courage, and inspired music.
Praise For Harlem Hellfighters…
"A rare look at how music made a positive contribution to World War I. This picture book makes a striking first impression, opening with a double-page spread of sketched snapshots of 24 African-American soldiers that echo those in Shaun Tan's The Arrival (2007). Each soldier, whether serious or smiling, gazes out at readers to introduce a story about all the ways the country for which they willingly fought still systematically discriminates against them even during wartime. Like these seemingly disconnected portraits at the beginning, episodic vignettes tell the story of how James "Big Jim" Reese Europe used music to motivate his troops under nearly insurmountable conditions; how the Harlem Hellfighters were often relegated to menial, "grunt work" jobs instead of being sent into battle, and how lynchings persisted at home despite their war efforts abroad. In the story's most haunting image, the ship on which the soldiers sail passes through the ghostly images of slaves wearing neck shackles, reminding readers that the Middle Passage still affected these black men in 1917. The narrative gaps and Lewis' focus on so many different individuals and situations make this a work that packs an emotional rather than an informational punch; it's best when used to supplement a more extensive study of the Harlem Hellfighters. A beautiful book that tells a truth that needs to be told." - Kirkus Starred Reviews

"Evocative free-verse poems and illustrated panels introduce youngsters to the story of 2,000 African- American men who, although treated like second-class citizens, were inspired to valiantly fight for democracy during WWI, awing their enemy who nicknamed them the 'Hellfighters.' The opening spread, featuring 'headshots' of black soldiers, is the first clue that readers must digest this slowly. The lyrical text is both beautiful and hard-hitting, providing a loose timeline of events and experiences from the men's recruitment through their training in the Jim Crow South, disappointing grunt work overseas, and their courage and tenacity when finally embedded with French troops fighting the Germans. But this is a story of music, too. Many of the soldiers were recruited by bandleader James Europe. Some were fine musicians, who brought the sound of Harlem across the ocean. Fluid, somber-toned pastel drawings depict the desolation and add emotional depth as when the regiment sails to France and passes a ghostly slave- ship in the night. One of the brightest spots in the art is a picture of a piano Europe found in a French farmhouse where he composed songs. This is a powerful tribute. Use it to spark students' research and as an example of courage and creative expression." -Booklist Starred Review

"Lewis's poetics are perfectly complemented by Kelley's evocative pastel illustrations, which both inspire and unsettle." - New York Times Book Review

"Lyrical storytelling and haunting illustrations from the duo behind And the Soldiers Sang recount the achievements of the all-African-American 369th Infantry Regiment in WWI. Known as the Harlem Hellfighters, the 2,000-strong regiment was recruited with the help of 'magnetic bandleader James Europe.... Even the tops of buses hosted Big/ Jim's band, recruits hopping aboard to the/ irresistible tug of patriotism, ragtime, and jazz.' Panels in dark hues appears alongside Lewis's free-verse poems, which feature titles like 'Recruited in Song' and 'Orders to Move.' These small poetic stories depict the Hellfighters' journey to the French front, battles, and the racism back home. The often-jarring images, with their shadows and angular lines, hit hard with poignancy. One spread intimates a ghost slave ship passing the Hellfighters' troop transport ship over the Atlantic; chained slaves stare out from an eerie fog, their faces coming closer with each panel. Classic works of art inspire Kelley's pastels (one softer scene features an upright piano in a field of impressionist red poppies). That these musicians turned soldiers didn't give up their music strikes a hopeful tone in this powerful tale." - Publishers Weekly

"The story of the 15th New York National Guard, or the 'Harlem Hellfighters,' an all-black regiment that joined the Great War in its final year, is a revealing lens through which to view that conflict. Lewis brings a stark poetic sensibility to his topic. His free verse captures the world the men left, a training camp in the South, a place of 'deputy sheriffs certain that black was not any color of the rainbow.' In fourteen words he references the irony of black men being shipped across the Atlantic-'Somewhere in the mid-Atlantic fog of history, two dark ships passed in the night.'-while in Kelley's atmospheric illustrations enslaved men in neck shackles appear out of the mist. In 'The Tally,' Lewis lets the statistics speak for themselves, contrasting the bravery of the soldiers honored by the French ('Citations: the Croix de Guerre to 171 Hellfighters; the Medal of Honor to 1 officer [white]'), with their meager recognition at home. Through the whole tragic enterprise there is music, with ragtime as a recruitment tool, a jazz version of the 'Marseillaise,' musician James Europe composing songs on a beat-up piano in an abandoned French farmhouse, and happy horns on Armistice Day. An introduction gives just enough background, and especially welcome artist's notes point out how Kelley echoes images of Monet, Delacroix, and Renoir in his illustrations. A bibliography is also included. This offering by the author-illustrator team behind the Boston Globe-Horn Book Honor book And the Soldiers Sang is a needed antidote to some of the more sentimental WWI books of this centennial year." -Sarah Ellis, The Horn Book Magazine

"This beautifully illustrated collection of free-verse poems introduces readers to the Harlem Hellfighters, a group of black American soldiers who fought in World War I, impressing the French with their courage and tenacity while also inspiring Europeans with their music, 'a mix of primitive jazz, blues, and upbeat ragtime.' Despite the picture book format, the sophisticated writing style will be best understood by older readers. In addition, background knowledge is necessary to fully comprehend the poetry. For example, the poem "Somewhere" reads, 'Somewhere/in the mid-Atlantic/fog of history, two/dark ships passed/in the night..' The illustration shows a slave ship crossing paths with the soldiers' vessel, but the slave trade itself is not mentioned anywhere in the text. The poems are of varying quality: some read more like expository text with some figurative language thrown in, while others feature strong imagery that will help readers visualize the sights and sounds of war. Kelly's atmospheric, pastel illustrations in muted tones are a perfect match for the time period, documenting the violence of war in Europe and the horror of lynchings at home. Those who look closely may notice that the illustrator has referenced some other works of art that are detailed in the artist's note. Refer students who would like to know more about these brave soldiers to Walter Dean Myers's The Harlem Hellfighters: When Pride Met Courage (HarperCollins, 2006). Though this title isn't a comprehensive look at the subject, it imparts the mood and feeling of the war well and serves as a good jumping-off point." -School Library Journal

2014 Silver Medal, Society of Illustrators

2015 Notable Children's Book, Association for Library Service to Children

2015 Ohioana Juvenile Literature Book Award Winner

Awarded as one of the New York Times Best Illustrated Books for 2014.

Notable Book for a Global Society, International Reading Association

Top 10 Multicultural Nonfiction for Youth: 2015, Booklist
Creative Editions, 9781568462462, 32pp.
Publication Date: August 19, 2014
About the Author
J. Patrick Lewis spent years as an economics professor before finding his passion as a writer. Today he holds an esteemed reputation in children's publishing, having authored more than 70 picture books, including such acclaimed titles as Black Cat Bone and The House. In 2011, he was honored with the NCTE Poetry Award and chosen to serve as the Children's Poet Laureate.

Gary Kelley is an internationally known artist who has illustrated numerous picture books, including Black Cat Bone. His artwork has appeared in such prominent periodicals as The New Yorker and Rolling Stone and can be seen in Barnes & Noble's bookstore murals.