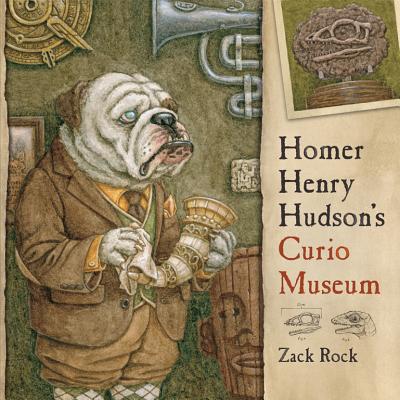 Homer Henry Hudson's Curio Museum (Hardcover)
Creative Editions, 9781568462608, 32pp.
Publication Date: August 19, 2014
* Individual store prices may vary.
Description
With a nose for adventure and an eye on history, Homer Henry Hudson travels the world for pieces to add to his exhibits at the Curio Museum. Author and illustrator Zack Rock crafts a tale brimming with curiosities, not the least of which is the true identity of the museum's canine caretaker, who, as he reflects on the exotic collection at his paws, becomes inspired to venture out into the unknown once again.
About the Author
Zack Rock is an illustrator and jackalope fancier living in Seattle, WA. He's the proud owner of an MA in Children's Book Illustration from the Cambridge School of Art.
Praise For Homer Henry Hudson's Curio Museum…
"In Rock's debut picture book, an eccentric bulldog named Homer Henry Hudson collects "bits and bobs" from around the globe, displaying them floor to ceiling in his museum of curios. Hudson takes great pride in his collection of riches, masterfully illustrated by Rock. These days, sidelined by an injury, this alliterative pooch keeps his museum 'spick-and-span' and treats himself nightly to sushi dinner. He introduces museumgoers to his favorite exhibits, such as the Nóttlandian Stuffed Animal (a teddy bear), given as a token of gratitude from a young girl. Or his Humble Willow Root Cane, a twisted stick that mirrors his anguish at not being able to travel. But it's his affection for the Manneken Mort of King Ingmar, a figurine wound with bands of the king's life stories, that gets this bulldog wondering. Are his bands complete, or are there more? Rock's illustrations are rendered in a subdued palette of watercolors, rich in earth tones and infused with touches of humble elegance. Young explorers will pore over the endpaper, title page and two-page spreads of museum space, drinking in each detailed treasure. Hudson's droopy, liver-spotted mug is so realistic readers will want to scratch him behind the ears. Hudson claims, 'Everything has a story.' And through his personal descriptions and musings over each artifact, he knows how to tell a good one." - Kirkus Reviews
or
Not Currently Available for Direct Purchase