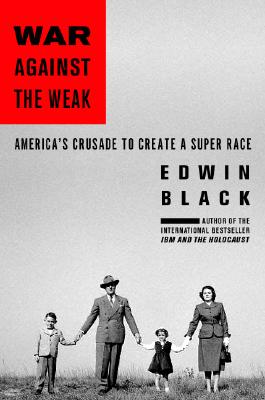 War Against the Weak (Hardcover)
Eugenics and America's Campaign to Create a Master Race
Basic Books, 9781568582580, 372pp.
Publication Date: September 1, 2003
Other Editions of This Title:
Paperback (10/1/2004)
Paperback (4/1/2012)
Hardcover (9/1/2003)
* Individual store prices may vary.
Description
Genetics is in the news. What's not in the news are its origins in a racist 20th-century pseudoscience called eugenics. In 1904, the U.S. began a large-scale eugenics movement that was championed by the nation's medical, political, and religious elite. Eugenics sought to eliminate social "undesirables" and was eventually copied by the Third Reich. Whites, blacks, Native Americans — nearly everyone was subject to sterilization, castration, and in some cases, euthanasia. In the aftermath of world revulsion over Nazi atrocities, eugenics was reborn with a new name and new packaging: genetics. This is an explosive, detailed, and vigorously researched account of U.S. race science and its "enlightened" reincarnation worldwide as human engineering. Illustrations accompany this startling investigation of America's century-long attempt to create a master race through mass sterilization and human breeding programs.
or
Not Currently Available for Direct Purchase