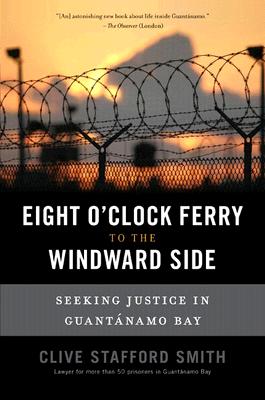 The Eight O'Clock Ferry to the Windward Side: Fighting the Lawless World of Guantanamo Bay (Hardcover)
Fighting the Lawless World of Guantanamo Bay
Nation Books, 9781568583747, 320pp.
Publication Date: September 1, 2007
* Individual store prices may vary.
or
Not Currently Available for Direct Purchase
Description
Lawyer Clive Stafford Smith's remarkable account of his descent into the darkly comic world of Guantanamo, a legal black hole in which the bleakness of the surroundings are punctuated by moments of humor and absurdity.
About the Author
After graduating from Columbia Law School in New York, Clive spent nine years as a lawyer with the Southern Center for Human Rights working on death penalty cases and other civil rights issues. In 1993, he moved to New Orleans and launched the Louisiana Crisis Assistance Center, a non-profit law office specializing in the defense of death penalty cases for impoverished defendants. In 1999 Clive Stafford Smith founded Reprieve and, the following year, he was awarded an OBE for 'humanitarian services'. He moved back to the UK in 2004 where he is focusing on achieving due process for the detainees being held by the U.S. in Guantanamo Bay, as well as continuing his work on death penalty cases. Clive was made a Rowntree Visionary and Echoing Green Fellow in 2005. A duel citizen, he lives in London.
Advertisement