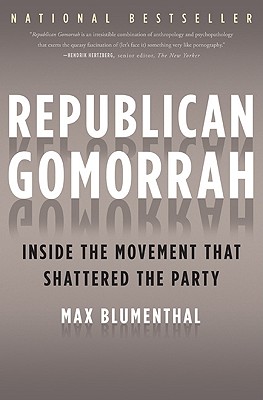 Republican Gomorrah: Inside the Movement that Shattered the Party (Hardcover)
Inside the Movement that Shattered the Party
Nation Books, 9781568583983, 416pp.
Publication Date: September 1, 2009
* Individual store prices may vary.
or
Not Currently Available for Direct Purchase
Description
An intimate, investigative portrait of how the purveyors of the politics of personal crisis and redemption brought down the GOP—and why they're still calling the shots for the party
About the Author
Max Blumenthal is one of the most constantly cited young liberal journalists in America and is regularly featured on the Rachel Maddow Show, Democracy Now!, and Countdown with Keith Olbermann. His articles and video documentaries have appeared in The Daily Beast, The Nation, The Huffington Post, Salon.com, Al Jazeera English, and many other publications. He is a correspondent for The Daily Beast, a research fellow for Media Matters for America, and a Journalism Writing Fellow for The Nation Institute. He lives in Brooklyn, New York.
Praise For Republican Gomorrah: Inside the Movement that Shattered the Party…
"With scarcely more than a pith helmet, a notebook, and a tattered copy of Escape from Freedom, Erich Fromm's great study of authoritarian psychology, the dauntless Max Blumenthal set forth years ago to explore the dank forests of American Christianism. Now he has returned to civilization, bringing back a fine collection of shrunken heads and a riveting account of a religio-political subculture that's even weirder than you thought it was. Republican Gomorrah is an irresistable combination of anthropology and psychopathology that exerts the queasy fascination of (let's face it) something very like pornography."
—Hendrik Hertzberg, senior editor, The New Yorker


"A brave and resourceful reporter adept at turning over rocks that public-relations-savvy Christian conservative leaders would prefer remain undisturbed."
—Rick Perlstein, New York Times Book Review


"Max Blumenthal's bold and brash reporting style should not overshadow his keen understanding of the extremist ideology that passes for "conservatism" in America today. A witty writer who thinks for himself, he shows the mainstream media where the story is, not vice versa. And his short videos have transformed the conservative crack-up into must-see TV."
—Joe Conason

Coverage from NPR
Advertisement