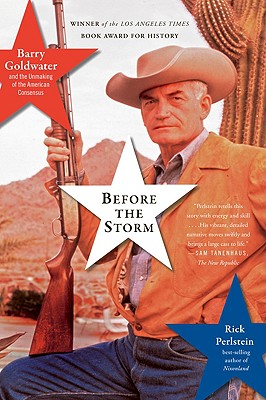 Before the Storm (Paperback)
Barry Goldwater and the Unmaking of the American Consensus
Bold Type Books, 9781568584126, 704pp.
Publication Date: March 17, 2009
* Individual store prices may vary.
Description
Acclaimed historian Rick Perlstein chronicles the rise of the conservative movement in the liberal 1960s. At the heart of the story is Barry Goldwater, the renegade Republican from Arizona who loathed federal government, despised liberals, and mocked "peaceful coexistence" with the USSR. Perlstein's narrative shines a light on a whole world of conservatives and their antagonists, including William F. Buckley, Nelson Rockefeller, and Bill Moyers. Vividly written, Before the Storm is an essential book about the 1960s.
About the Author
Rick Perlstein
is the bestselling author of
The Invisible Bridge: The Fall of Nixon and the Rise of Reagan
and
Nixonland: The Rise of a President and the Fracturing of America
. His reviews, reporting, and essays have appeared in the
New York Times
,
New York Observer
,
New Republic
,
Washington Post
,
London Review of Books
,
Columbia Journalism Review
,
The Nation
, and
The New Yorker
. He has received a National Endowment for the Humanities grant for independent scholars. He lives in Chicago.
www.rickperlstein.org