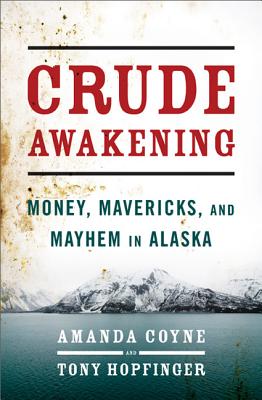 Crude Awakening: Money, Mavericks, and Mayhem in Alaska (Hardcover)
Money, Mavericks, and Mayhem in Alaska
Nation Books, 9781568584478, 304pp.
Publication Date: November 8, 2011
Description
Crude Awakening is the rollicking story of politics in America's last frontier and oil province--Alaska, the nation's most wild and mysterious state, where politics and oil blurred on the day wildcatters struck it big in 1968. Living in a northern Never Land, where oil companies and the federal government kept the state living high and wild, a handful of players ran the show. Among them were the late Sen. Ted Stevens and oilman Bill Allen, the Tony Soprano of Alaska who controlled the political machine until the FBI arrived to root out corruption, only to be accused of playing as dirty as those they were investigating. These characters and events paved the way for Sarah Palin's rise to fame and fall from glory in Alaska. Authors Amanda Coyne and Tony Hopfinger chart the epic tale of these three characters, set in a state of soaring hopes, fading dreams, drying oil fields and an uncertain future.
About the Author
Amanda Coyne is co-founder of AlaskaDispatch, an online news site devoted to covering the state. Her writing has appeared in Harper's, The New York Times Magazine, and The Guardian. She lives in Anchorage.Tony Hopfinger has reported on Alaska politics and oil since coming to the state in 1999. He is the co-founder and executive editor of Alaska Dispatch. He lives in Anchorage.
Praise For Crude Awakening: Money, Mavericks, and Mayhem in Alaska…
Joe Conason, author of The Hunting of the President: The 10 Year Campaign to Destroy Bill and Hillary Clinton and Big Lies: The Right-Wing Propaganda Machine and How It Distorts the Truth
"Crude Awakening is a marvelously lyrical yet rigorous narrative of Alaska's awakening to the corruption spawned by its enormous natural wealth. It's a story told through the lives of three remarkable characters: oil kingpin Bill Allen, political boss Ted Stevens, and the state's self-proclaimed savior, Sarah Palin."

Philip Gourevitch, author of The Ballad Of Abu Ghraib and A Cold Case
"The story of Alaska politics, with its fantastic cast of dramatic and self-dramatizing characters, is one of the great American stories of our times. And here it is, from the reporting team that has been breaking it and bringing it to us in must-read dispatches for years."
Ben Stein is a writer, actor, economist, and lawyer who served as a presidential speechwriter in the Nixon and Ford administrations
"A genuinely frightening look at some genuinely frightening characters in a land where money is a constant and truth and dignity are variables. The authors have turned over the ice and snow to see some extremely unlovely specimens of humanity who get less and less lovely as the spotlight shines on them. This is a finely crafted, riveting look at some dangerously crafty and even worrisome individuals in the oil patch under the ice patch. A fantastic piece of work."
Steve W. Haycox is a distinguished emeritus professor at the University of Alaska in Anchorage and the author of several books, including Alaska: An American Colony
"With clarity and verve Tony Hopfinger and Amanda Coyne have reconstructed the unflattering story of Alaska's politics in the age of once Governor Sarah Palin and oil henchman Bill Allen to show how life in the shadow of 'Big Oil' corrupted the venal and the mighty, ultimately destroying even the career of Senator Ted Stevens. Their reliable account fits together the disparate pieces of a tale that belies the ideals of leadership, and plain common sense. There's not a better overview of what really happened in Alaska."
Dermot Cole is a longtime Alaskan journalist and the author of several books, including North to the Future
"A first-rate account of the crazy swirl of recent events in Alaska in which scandals ended political careers, toppled the power structure, and launched Sarah Palin onto the national scene. The underhanded dealings uncovered by the FBI and the battle over billions in natural resources reflect a struggle for control of Alaska."
Seattle Times
"There's been lots written about Palin since [she ran for governor in 2006], but what makes this book worth reading is that it is written by Alaskans, about Alaskans and with an inside view of what a different place it is."
Ben Stein,
Washington Times
"
Crude Awakening
is a breathtakingly fine book on the history of oil in the complex state of Alaska…. [A] magisterial work of history. It gives me an idea of just how foolhardy people in Alaska can be – and also how kind and welcoming and supportive. It also tells me that there is a new generation of historians out there who will be able to keep up fine, meticulously detailed history-writing, presented in a compellingly readable way…. If you want to understand the power of the King Kong of minerals, oil, once it is awakened, captured and carried back to the mainland, do not miss this book, or the movie that is sure to follow. This is simply fantastic work."
Library Journal
"Politics is said to be a volatile, sticky, primordial, black muck. So is oil. Coyne and Hopfinger give us the rundown, via three particular Alaskans, on the murky politics of oil in Alaska…. Ably and temperably told by authors who know Alaska…, this is a valuable study to understanding the Last Frontier, the oil business, or Palin."
Kirkus Reviews
"Alaska Dispatch co-founders Coyne and Hopfinger happily sink their teeth into their home turf's oil and politics conundrum, whittling away at 40-plus years of corruption and obfuscation…. Throughout, the authors paint Alaska as an environmentally blessed, aesthetically promising land, which makes the detailed corruption and its dark outcome that much more contemptible. None of the three subjects [Ted Stevens, Bill Allen, and Sarah Palin] deserve any sympathy, and Coyne and Hopfinger keep them all (Palin especially) squirming under their journalistic thumbnail. A probative, merciless examination from an Anchorage-based dynamic duo."
Publishers Weekly
"[A] juicy portrait of power and corruption…. [A]n engaging, well-drawn political history that initiates a necessary conversation on Alaska's future now that the old-guard leaders like [the late Senator Ted] Stevens and [Sarah] Palin are gone, the Arctic is melting, and pervasive 'corruption has been exposed.'" 
Advertisement