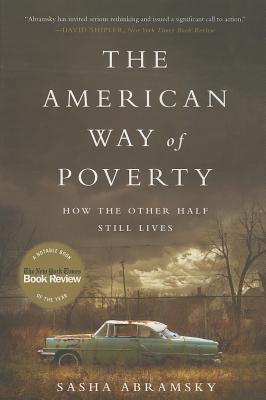 The American Way of Poverty (Paperback)
How the Other Half Still Lives
Bold Type Books, 9781568584607, 368pp.
Publication Date: August 26, 2014
Other Editions of This Title:
Hardcover (9/10/2013)
* Individual store prices may vary.
Description
A New York Times Notable Book of the Year

Fifty years after Michael Harrington published his groundbreaking book The Other America, in which he chronicled the lives of people excluded from the Age of Affluence, poverty in America is back with a vengeance. It is made up of both the long-term chronically poor and new working poor—the tens of millions of victims of a broken economy and an ever more dysfunctional political system. In many ways, for the majority of Americans, financial insecurity has become the new norm.

The American Way of Poverty shines a light on this travesty. Sasha Abramsky brings the effects of economic inequality out of the shadows and, ultimately, suggests ways for moving toward a fairer and more equitable social contract. Exploring everything from housing policy to wage protections and affordable higher education, Abramsky lays out a panoramic blueprint for a reinvigorated political process that, in turn, will pave the way for a renewed War on Poverty.

It is, Harrington believed, a moral outrage that in a country as wealthy as America, so many people could be so poor. Written in the wake of the 2008 financial collapse, in an era of grotesque economic extremes, The American Way of Poverty brings that same powerful indignation to the topic.

About the Author
Sasha Abramsky is a freelance journalist and a part-time lecturer in the University Writing Program, at the University of California, Davis. His work has appeared in the Nation, the Atlantic Monthly, New York magazine, the Village Voice, Rolling Stone, and many other publications. In 2000 he was awarded an Open Society, Crime, and Communities Media Fellowship, and he is currently a Senior Fellow at Demos, the New York City-based think tank. His work on poverty was funded by a grant from the Open Society Foundations' Special Fund for Poverty Alleviation. He lives in Sacramento, California.