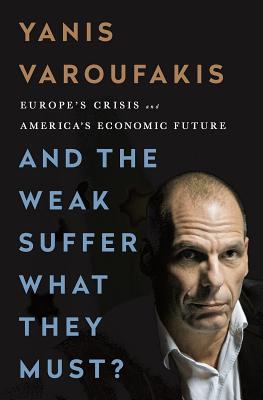 And the Weak Suffer What They Must?
Europe's Crisis and America's Economic Future
Hardcover

* Individual store prices may vary.
Other Editions of This Title:
Digital Audiobook (9/18/2017)
Paperback (9/19/2017)
Paperback (4/5/2016)
Compact Disc (9/19/2017)
Compact Disc (9/19/2017)
Description
A #1 Sunday Times bestseller [UK]

A titanic battle is being waged for Europe's integrity and soul, with the forces of reason and humanism losing out to growing irrationality, authoritarianism, and malice, promoting inequality and austerity. The whole world has a stake in a victory for rationality, liberty, democracy, and humanism.

In January 2015, Yanis Varoufakis, an economics professor teaching in Austin, Texas, was elected to the Greek parliament with more votes than any other member of parliament. He was appointed finance minister and, in the whirlwind five months that followed, everything he had warned about-the perils of the euro's faulty design, the European Union's shortsighted austerity policies, financialized crony capitalism, American complicity and rising authoritarianism-was confirmed as the "troika" (the European Central Bank, International Monetary Fund, and European Commission) stonewalled his efforts to resolve Greece's economic crisis.

Here, Varoufakis delivers a fresh look at the history of Europe's crisis and America's central role in it. He presents the ultimate case against austerity, proposing concrete policies for Europe that are necessary to address its crisis and avert contagion to America, China, and the rest of the world. With passionate, informative, and at times humorous prose, he warns that the implosion of an admittedly crisis-ridden and deeply irrational European monetary union should, and can, be avoided at all cost.
Praise For And the Weak Suffer What They Must?: Europe's Crisis and America's Economic Future…
"The emerging rock-star of Europe s anti-austerity uprising." --The Daily Telegraph

"A brilliant economist." --Bloomberg

"The most interesting man in the world." --Business Insider

"[A] fiery maverick." --Fortune

"Mr. Varoufakis tends to speak in thoughtful and theatrical tones that can prompt strong reactions." --New York Times

"European finance ministers have got an opponent who will not recede easily. And one who, furthermore, appears to have the stamina of a long distance runner to go the whole way." --The Guardian

"A new politician...who is poised to change how you and I think about those we elect to lead us." --Huffington Post
Bold Type Books, 9781568585048, 368pp.
Publication Date: April 12, 2016
About the Author
Yanis Varoufakis is the former finance minister of Greece. A professor of economic theory at the University of Athens and a visiting professor at the Lyndon B. Johnson School of Public Affairs, University of Texas, Austin, he is the author of The Global Minotaur: America, the True Causes of the Financial Crisis and the Future of the World, among others. In 2016 he formed a new pan-European political party, Democracy in Europe Movement 2025 (DiEM).