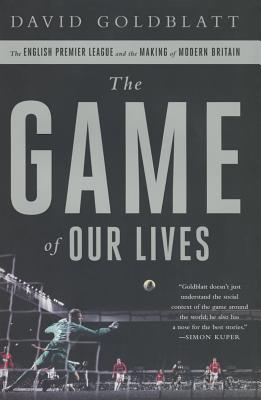 The Game of Our Lives
The English Premier League and the Making of Modern Britain
Hardcover

* Individual store prices may vary.
Description

The Game of Our Lives is a masterly portrait of soccer and contemporary Britain. Soccer in the United Kingdom has evolved from a jaded, working-class tradition to a sport at the heart of popular culture, from an economic mess to a booming entertainment industry that has conquered the world. The changes in the game, David Goldblatt shows, uncannily mirror the evolution of British society. In the 1980s, soccer was described as a slum game played by slum people in slum stadiums. Such was the transformation over the following twenty-five years that novelists, politicians, poets, and bankers were all declaring their footballing loyalties. At one point, the Palace let it be known that the queen--like her mother, Prince Harry, the chief rabbi, and the archbishop of Canterbury--was an Arsenal fan. Soccer permeated the national life like little else, an atavistic survivor decked out in New Britain flash, a social democratic game in a cutthroat, profit-driven world. From the goals, to the players, to the managers, to the money, Goldblatt describes how the English Premier League (EPL) was forged in Margaret Thatcher's Britain by an alliance of the big clubs--Arsenal, Liverpool, Manchester United, Chelsea, Tottenham Hotspur--the Football Association, and Rupert Murdoch's Sky TV. Goldblatt argues that no social phenomenon traces the momentous economic, social, and political changes of post-Thatcherite Britain in a more illuminating manner than soccer, and The Game of Our Lives provides the definitive social history of the EPL--the most popular soccer league in the world.
Nation Books, 9781568585062, 368pp.
Publication Date: November 11, 2014
About the Author
David Goldblatt was born in London in 1965 and lives in Bristol. He shares his affections between Tottenham Hotspur and Bristol Rovers. He is the author of The Ball is Round: A Global History of Football and Futebol Nation: The Story of Brazil Through Soccer. Since then he has made sport documentaries for BBC Radio, reviewed sports books for the TLS and the Guardian, taught the sociology of sport at Bristol University, the International Centre for Sports History and Culture, De Montfort University, Leicester and Pitzer College, Los Angeles.
or
Not Currently Available for Direct Purchase