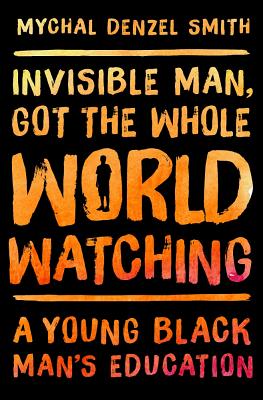 Invisible Man, Got the Whole World Watching (Hardcover)
A Young Black Man's Education
Bold Type Books, 9781568585284, 240pp.
Publication Date: June 14, 2016
* Individual store prices may vary.
Description
A New York Times Bestseller

New York Times Book Review Editor's Choice

How do you learn to be a black man in America? For young black men today, it means coming of age during the presidency of Barack Obama. It means witnessing the deaths of Oscar Grant, Trayvon Martin, Michael Brown, Akai Gurley, and too many more. It means celebrating powerful moments of black self-determination for LeBron James, Dave Chappelle, and Frank Ocean.

In Invisible Man, Got the Whole World Watching, Mychal Denzel Smith chronicles his own personal and political education during these tumultuous years, describing his efforts to come into his own in a world that denied his humanity. Smith unapologetically upends reigning assumptions about black masculinity, rewriting the script for black manhood so that depression and anxiety aren't considered taboo, and feminism and LGBTQ rights become part of the fight. The questions Smith asks in this book are urgent—for him, for the martyrs and the tokens, and for the Trayvons that could have been and are still waiting.

About the Author
Mychal Denzel Smith is a Knobler Fellow at The Nation Institute and a contributing writer for The Nation magazine. He has also written for The New York Times, The Atlantic, Salon, Feministing.com, The Guardian, The Root, theGrio, ThinkProgress, and The Huffington Post, and he has been a featured commentator on NPR, BBC radio, CNN, MSNBC, Al Jazeera America, HuffPost Live, and a number of other radio and television programs.

Praise For Invisible Man, Got the Whole World Watching: A Young Black Man's Education…
"'Invisible Man' is a philosophical work….[Mychal Denzel Smith's] straightforward explanation of his experience growing up as a black man in America is worth our urgent attention."
—Michael Kleber-Diggs, Minneapolis Star-Tribune
"…wonderful…While
Invisible Man, Got the Whole World Watching
may not have the answers, its attempt to define the undefined something buzzing about blackness feels like catching lightning in a bottle."
—Atlantic.com
"…engaging and brilliant."
—Truthout
"What makes 'Invisible Man, Got the Whole Watching' so revolutionary is Smith's brutal honesty…Unlike many of his predecessors, [Smith] gives a raw recount of a young black man's life through the framework of black feminism and cultural criticism."
—Huda Hassan, National Post
"…a superbly thoughtful memoir." —
Buzzfeed
"A useful blueprint for radical and intersectional politics in a country where a black child can grow up to be president but where living while black is still dangerous."—
Kirkus Reviews
"Mychal Denzel Smith takes us on a political and cultural journey of young black manhood that unapologetically examines, parallels, and weighs the influence of Obama and LeBron, Kanye and Trayvon, Malcolm X and Chapelle on his own becoming in the 21st century. By centering the black boy he once was, the boy many refuse to see, we face him head-on. Smith trusts us to not only see him in all his vulnerability, bravado, and incisiveness, but to know him. This is Smith's selfless offering."
—Janet Mock, New York Times bestselling author of Redefining Realness
"With this book, Mychal Denzel Smith solidifies his place as one of the most important voices of his generation. A gifted storyteller with sharp political analysis, he straddles the personal and political with aplomb. This is a book everyone should read."
—
Jessica Valenti, Guardian US columnist and author of Sex Object: A Memoir
"It has become routine to witness black boys meeting violent ends. Captured on police dash cams or bystander smart phones we watch black boys die as videos replay hourly on cable news and are clicked feverishly on YouTube. It is still rare to watch black boys grow--to hear them laugh or cry, to declare their passions and to reason carefully. This is part of why Smith's book is so affirming, necessary, even delightful despite its brutality and angst. Mychal Denzel Smith answers the pressing but unasked question, what would happen if all those black boys felled by bullets had a chance to make mistakes, read books, fall in love, hone skills, take new paths, and grow up? The story is fully and unflinchingly Mychal's and because Mychal is so distinctively self-aware, so intellectually invested, and emotionally raw, it cannot simply stand in as a generic tale for all the lost black boys-- except that they too would have had stories entirely their own to tell if only they had had a chance to write them. We owe it to them and more importantly to ourselves to read Mychal's book and render visible what we would rather forget."
—
Melissa Harris-Perry, Maya Angelou Presidential Chair at Wake Forest University
"Decades ago, Toni Cade Bambara wrote, 'The purpose of a writer is to make revolution irresistible.' Mychal Denzel Smith, in addition to crafting a genius piece of art that swims through politics and prose, has created one of the first books of my lifetime that makes structural and interpersonal revolution irresistible. Unlike many 20th and 21st century memoirs written by black men, Smith convinces readers that any conversation or movement towards black liberation that doesn't also reckon with heteropatriarchy is brittle at best, and likely destructive.
Invisible Man, Got the Whole World Watching
is the first book of my life that I need to read with my mother, my grandmother and my children. Mychal Denzel Smith has done it. He has written a potential revolution."
—
Kiese Laymon, author of How to Slowly Kill Yourself and Others in America
"
Invisible Man, Got The Whole World Watching
is quintessentially Mychal Denzel Smith: brilliant, honest, courageous, hilarious, and transparent. Most importantly, it is one of the best and most authentic examples of black male feminist cultural criticism that we have ever seen. Although he draws from his own experience, Mychal avoids the self-importance and navel gazing that compromise most memoirs of this genre. Instead, he offers a narrative that is at once unique and ordinary, reflective and instructive. This book should be read by anyone trying to understand what it means to be black and male and committed to this beautiful struggle for freedom."
—
Marc Lamont Hill, author of Nobody: Casualties of America's War on the Vulnerable, from Ferguson to Flint and Beyond
"If I kept a diary of my deepest thoughts, plaguing insecurities and varied triumphs—this would be it. It is a cover to cover conversation with the reader on the complexity of (hopefully) growing to be a Black Man in the American Empire. Mychal's coming of age book, his first, is a masterful meld of personal reflection, political analysis and honest insight that yearns to be felt, must be read and demands to be seen."
—
umi selah, organizer and co-founder, the dream defenders
"'Invisible Man, Got the Whole World Watching' is ambitious, ardent and timely." —Walton Muyumba, New York Times Book Review

"An ambitious blend of autobiography and cultural criticism." —New York Times Book Review, Editors' Choice

"An audacious debut book…This is a must-read book for the generations." —Washington Post

"[Mychal Denzel Smith] is a voice entering the ring with fire. With raw urgency, intelligence and blistering candor, [Invisible Man, Got the Whole World Watching] tells the story of a young man's political education."—New Republic

"[Mychal Denzel Smith] provides perspective into the complexity of blackness that's commonly lost in discussions about race…this memoir is both groundbreaking and saddening. It might be the first of its kind: a book that offers a comprehensive look into the genesis of black millennial lives through the eyes of a young black man." —Daren W. Jackson, Chicago Tribune

"Here is the deeply thought accounting of the contemporary black experience by one of our foremost writers and thinkers. A scintillating, rewarding read."—The Root