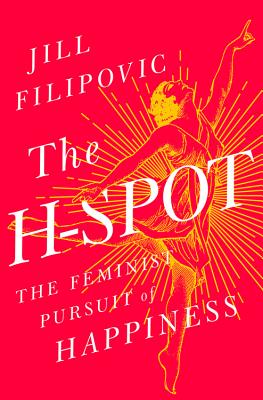 The H-Spot
The Feminist Pursuit of Happiness
Hardcover

* Individual store prices may vary.
Other Editions of This Title:
Digital Audiobook (9/25/2017)
Paperback (5/1/2018)
Description
What do women want? The same thing men were promised in the Declaration of Independence: happiness, or at least the freedom to pursue it.

For women, though, pursuing happiness is a complicated endeavor, and if you head out into America and talk to women one-on-one, as Jill Filipovic has done, you'll see that happiness is indelibly shaped by the constraints of gender, the expectations of feminine sacrifice, and the myriad ways that womanhood itself differs along lines of race, class, location, and identity.

In The H-Spot, Filipovic argues that the main obstacle standing in-between women and happiness is a rigged system. In this world of unfinished feminism, men have long been able to "have it all" because of free female labor, while the bar of achievement for women has only gotten higher. Never before have women at every economic level had to work so much (whether it's to be an accomplished white-collar employee or just make ends meet). Never before have the standards of feminine perfection been so high. And never before have the requirements for being a "good mother" been so extreme. If our laws and policies made women's happiness and fulfillment a goal in and of itself, Filipovic contends, many of our country's most contentious political issues -- from reproductive rights to equal pay to welfare spending -- would swiftly be resolved.

Filipovic argues that it is more important than ever to prioritize women's happiness-and that doing so will make men's lives better, too. Here, she provides an outline for a feminist movement we all need and a blueprint for how policy, laws, and society can deliver on the promise of the pursuit of happiness for all.
Praise For The H-Spot: The Feminist Pursuit of Happiness…
"There's a subtle radicalism to Filipovic's vision of politicized pleasure...She's proposing a thorough remodeling of the house that white men built."
—Megan Garber, The Atlantic

"Filipovic creates an accurate and complex portrait of the struggles facing working women-and the collective effort necessary to remedy them."
—Mic

"Filipovic dives deep into the machinery of American culture and politics to uncover the underlying causes of continuing inequality, demonstrating the necessity of reframing our deeply held cultural beliefs."—Bust

"A wonderfully intersectional work."—Bustle

"The H-Spot is the feminist book we've all been waiting for. Filipovic is a brilliant and engaging writer, and offers a necessary new way to think about gender, politics, and happiness. In the current political moment, The H-Spot couldn't be better timed."
—Jessica Valenti, author of Sex Object

"Jill Fillipovic consistently captures the modern zeitgeist and I rely on her fresh perspective. Read her book; she will give us hope for the future like no one else can."
—Sally Kohn

"Part feminist history, part memoir, and part call to action, this engaging volume presents a sound argument for shifting both policy and cultural attitudes toward a prioritization of female happiness. Filipovic gives a comprehensive look into what makes American women happy-and why so many aren't-in a system that seems set up to limit them. Using detailed research and thoughtful analysis, as well as numerous interviews with women of varied backgrounds, Filipovic discusses some of the most significant points of female happiness (or lack thereof)-from female friendship to motherhood to equal pay, and more-in all their complexity and through an intersectional feminist lens. Filipovic, who writes for the New York Times, Cosmopolitan.com, among other publications, is unflinchingly honest in her analysis of what it means to be female in America, both in 2017 and throughout history. VERDICT Thought provoking and sure to spark discussion, this title will appeal to fans of Roxane Gay and other feminist writers, as well as readers seeking well-researched works that speak to today's political climate."—Library Journal

"A sound analysis of what really makes women happy. . . . An assertive, eye-opening investigation of women's happiness. [Filipovic's] research and analysis are spot-on, and she provides readers with plenty of useful information to drive deep and necessary discussions for years to come. A timely, enlightening exploration of what American women truly want and need to live purposeful, fulfilling, happy lives."—Kirkus Reviews

"Women have come a long way, but the idea that women deserve to feel pleasure is still a third rail in American society. Jill Filipovic asks, instead, what if we stopped talking about women solely as wives, mothers, and workers, and started to think of women as people who have a right to pursue happiness-for themselves. The idea makes many people squirm, but the result would be a better society, for everyone."—Amanda Marcotte, author of It's a Jungle Out There

"By politicizing the question 'What makes women happy?' Jill Filipovic turns us away from the world of self-help and self-improvement to focus on the systems that deny women the right to fulfillment. The H-Spot is a deeply researched and cogently argued book that demands a radical reimagining of policy to ensure not only an end to gender oppression, but the establishment of new systems where women's happiness is not sidelined or ignored, and is instead central to our understanding of freedom."—Mychal Denzel Smith, author of Invisible Man, Got the Whole World Watching

"Jill's book is a much-needed examination of the intersection of two issues we rarely see discussed together: feminism and happiness. For too long, critics of feminism have used the happiness argument to belittle the importance of the cause and argue that female emancipation somehow makes women unhappy. It couldn't be further from the truth. Empowered women are happier women. We should all have a right to happiness and for far too long, women have been excluded from that pursuit. In her book, Jill makes an eloquent case for women's right to be truly happy. It's about damn time someone said it, women deserve and have earned their happiness, and they are going to take it!"
—Liz Plank, senior correspondent, Vox

"Sexism and misogyny may be humankind's primary flaws, and Jill Filipovic offers a searing and sanguine look at how they block the happiness of women and men alike. Her debut is a guide to better living through an emancipatory mindset. If you thought feminism's goal was gender equality alone, The H-Spot demands that we expect more."
—Jamil Smith, journalist and cultural critic

"This is a damn good book that is filling in blank spots I didn't know I had about sex, about women, about history, and about how much better our lives, relationships, and societies could be if we opened up our imaginations as Jill has so courageously, generously, and effectively done. Men, women, and everyone on the spectrum in between should read and talk about this book."
—Baratunde Thurston, author of How to Be Black

"What if, instead of relying on women to self-sacrifice and man-please, society valued women's happiness? What would have to change-in our social and political arrangements, at work, at home, in bed? Widely known for her shrewd and searching journalism on contemporary feminist issues, Jill Filipovic is the perfect writer to raise these provocative questions-and point the way to some answers."
—Katha Pollitt, author of Pro: Reclaiming Abortion Rights

"Filipovic frames happiness as a political question-one that goes back to the Declaration of Independence itself...She shows her subject is crucial, and the political changes needed to close the 'happiness gap' between American men and women would be revolutionary. If, as the old adage has it, no one is free until we are all free, Filipovic shows the same may be true of being happy."—New York Times Book Review

"A practical, carefully researched modern-life primer for everywoman. Through chapters about motherhood, friendship, sex, work and relationships, she uses her own experience and that of others to navigate the structural problems facing women in a patriarchal society - and to explain how they can be happier."—Financial Times
Bold Type Books, 9781568585475, 336pp.
Publication Date: May 2, 2017
About the Author
Jill Filipovic is a contributing opinion writer for the New York Times and a regular columnist for Cosmopolitan.com, where she was previously a senior political writer. A former columnist for the Guardian, she is also an attorney. Her work on law, politics, gender, and foreign affairs has appeared in the Washington Post, Time, Nation, Foreign Policy, and others. Follow her on Twitter @JillFilipovic.