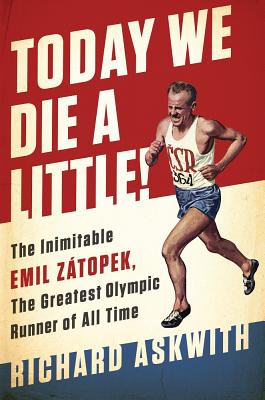 Today We Die a Little!
The Inimitable Emil Zátopek, the Greatest Olympic Runner of All Time
Hardcover

* Individual store prices may vary.
Description
"We are different, in essence, from other men. If you want to enjoy something, run 100 meters. If you want to experience something, run a marathon." -- Emil Zápek

For a decade after the Second World War, Emil Zápek -- "the Czech locomotive" -- redefined the sport of distance running, pushing back the frontiers of what was considered possible. He won five Olympic medals, set eighteen world records, and went undefeated in the 10,000-metre race for six years. His dominance has never been equaled.

In the darkest days of the Cold War, he stood for a spirit of generous friendship that transcended nationality and politics. Zápek was an energetic supporter of the Prague Spring in 1968, championing "socialism with a human face" in Czechoslovakia. But for this he paid a high price. After the uprising was crushed by Soviet tanks, the hardline Communists had their revenge. Zápek was expelled from the army, stripped of his role in national sport, and condemned to years of hard and degrading manual labor.

Based on extensive research in the Czech Republic, interviews with people across the world who knew him, and unprecedented cooperation from his widow, fellow Olympian Dana Zápkovájournalist Richard Askwith's book breathes new life into the man and the myth, uncovering a glorious age of athletics and an epoch-defining time in world history.
Praise For Today We Die a Little!: The Inimitable Emil Zátopek, the Greatest Olympic Runner of All Time…

With humor, passion, and a touch of folly, the amazing Zátopek reminds us of the pain and the glory behind every victory and the power of sports to bring people together and make history." — Martina Navratilova

"A powerful look at one of the greatest Olympic champions of all time. When I met Zátopek at the New York Marathon, he was friendly, full of energy, and curious—just as he comes across in these riveting pages. Learning more about his personal life and the unique challenges he faced during the Cold War as a Czech athlete, was fascinating. He had a great heart—he was not just an iconic athlete; he was a peacemaker." — Bill Rodgers, Olympic runner and four-time winner of the New York and Boston Marathons

"A wonderfully in-depth and often emotionally charged piece of writing." — Athletics Weekly

"An astonishing achievement... There are few writers as adept at capturing so lyrically the utter and incomprehensible strangeness of distance running... A joy to read."
— Literary Review

"Before Mo Farah and Paula Radcliffe, there was Emil Zátopek - a Czechoslovakian soldier turned long-distance runner turned Cold War victim. His four Olympic golds, 18 world records and Communist party career are all laid bare in this definitive account."— Shortlist
Bold Type Books, 9781568585499, 496pp.
Publication Date: May 24, 2016
About the Author
Richard Askwith is a journalist for the Independent and author of two books: Running Free and Feet in the Clouds. The latter won Best New Writer at the British Sports Book Awards, was shortlisted for the William Hill Prize, and was named one of the three best running books of all time by Runner's World.