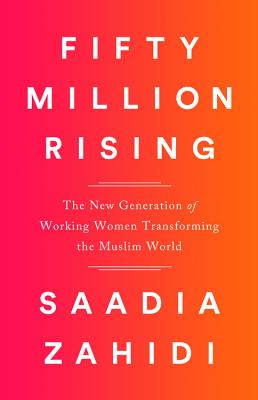 Fifty Million Rising (Hardcover)
The New Generation of Working Women Transforming the Muslim World
Bold Type Books, 9781568585901, 288pp.
Publication Date: January 30, 2018
* Individual store prices may vary.
Description
There is a quiet revolution that is radically reshaping the Muslim world: 50 million women have entered the workforce and are upending their countries' economies and societies.

Longlisted for the FT & McKinsey Business Book of the Year Award

Across the Muslim world, ever greater numbers of women are going to work. In the span of just over a decade, millions have joined the workforce, giving them more earning and purchasing power and greater autonomy.
In Fifty Million Rising, award-winning economist Saadia Zahidi illuminates this discreet but momentous revolution through the stories of the remarkable women who are at the forefront of this shift--a McDonald's worker in Pakistan who has climbed the ranks to manager; the founder of an online modest fashion startup in Indonesia; a widow in Cairo who runs a catering business with her daughter, against her son's wishes; and an executive in a Saudi corporation who is altering the culture of her workplace; among many others. These women are challenging familial and social conventions, as well as compelling businesses to cater to women as both workers and consumers. More importantly, they are gaining the economic power that will upend entrenched cultural norms, re-shape how women are viewed in the Muslim world and elsewhere, and change the mindset of the next generation.
Inspiring and deeply reported, Fifty Million Rising is a uniquely insightful portrait of a seismic shift with global significance, as Muslim women worldwide claim a seat at the table.
About the Author
Saadia Zahidi is head of Education, Gender and Work and a member of the Executive Committee at the World Economic Forum. She is a founder and coauthor of the WEF's Global Gender Gap, Human Capital and Future of Jobs reports. In 2013 and 2014, she was named one of BBC's 100 Women driving change in economics, politics, and society. She is the recipient of the FT/McKinsey Bracken Brower Prize, promoting young authors writing on emerging business themes, for this book.
Praise For Fifty Million Rising: The New Generation of Working Women Transforming the Muslim World…
"A much-needed celebration of courageous women, and a reminder that education for girls and women can transform our communities and our world."—Malala Yousafzai, Co-Founder, Malala Fund

"A stirring read on the essential role of working women in the Muslim world. Saadia Zahidi deftly describes the personal and political, emotional and economic, local and global dynamics that are finally enabling women to gain the opportunity and the power that they deserve. The world will be a better place because of it."—Adam Grant, New York Times bestselling author of Give and Take, Originals, and Option B with Sheryl Sandberg

"Work is a source of identity, meaning, dignity, and fulfilment for many of us. For the women who have joined the workforce in the Muslim world-and for their societies-it is nothing short of transformational. Fifty Million Rising is an indispensable guide to a unique and hopeful economic story."—Klaus Schwab, Founder and Executive Chairman, World Economic Forum

"Fifty Million Rising shows how digital technologies are enhancing opportunities for a new female workforce in the emerging markets of the Muslim world. If you care about technology and social inclusion, you need to read Saadia Zahidi's important book."—Erik Brynjolfsson, Professor at MIT and co-author of The Second Machine Age and Machine | Platform | Crowd

"Impressive. Drawing on economic data and interviews with female domestic workers, entrepreneurs, doctors, and C.E.O.s, Zahidi relates daunting and largely unheralded journeys."—New Yorker


"Starting with her arresting insight that the first
convert to Islam - Khadija, the wealthy trader who later married the prophet
Muhammad - was a businesswoman, Zahidi explores this under-researched area with
élan and a wealth of reportage."—Financial Times

"In this lucid presentation, [Zahidi] draws on 200 interviews to depict an inexorable march forward for Muslim women, who are set to make up over 30 percent of the global Muslim work force by 2030."—Foreign Affairs


"Zahidi provides an engaging, clear-eyed analysis of the dynamic economic changes that may usher in a new 'Golden Age' of Islam. Her book subverts prevalent stereotypes about Muslim women through their personal stories and contributions to their respective societies. Their resilience, determination and pioneering spirit will leave an indelible mark for years to come."—Globe and Mail


"Zahidi makes her literary debut with an informative and revealing look at the work life of Muslim women throughout the Middle East and South, Central, and East Asia... A well-documented and fresh perspective on Muslim society."—Kirkus Reviews

"In this fascinating look at a monumental shift, Zahidi elevates the voices of women across the world who speak about their motivations, successes, and challenges in forging new paths."—Booklist

"A valuable baseline for measuring future progress and helps to debunk Western myths about Muslim women."—Publishers Weekly