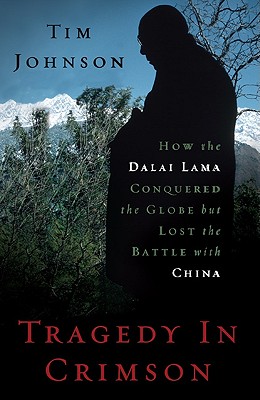 Tragedy in Crimson: How the Dalai Lama Conquered the World But Lost the Battle with China (Hardcover)
How the Dalai Lama Conquered the World But Lost the Battle with China
Nation Books, 9781568586014, 333pp.
Publication Date: February 1, 2011
* Individual store prices may vary.
or
Not Currently Available for Direct Purchase
Description
Tragedy in Crimson is award-winning journalist Tim Johnson's extraordinary account of the cat-and-mouse game embroiling China and the Tibetan exile community over Tibet. Johnson reports from the front lines, trekking to nomad resettlements to speak with the people who guard Tibet's slowly vanishing culture; and he travels alongside the Dalai Lama in the campaigns for Tibetan sovereignty. Johnson unpacks how China is using its economic power around the globe to assail the Free Tibet movement. By encouraging massive Chinese migration and restricting Tibetan civil rights, the Chinese are also working to dilute Tibetan culture within Tibet itself. He also takes a sympathetic but unsentimental look at the Dalai Llama, a popular figure in the West who is regarded as a failure by many of his own people. Staggering in scope, vivid and audacious in its narrative aims, Tragedy in Crimson tells the story of a people on the brink of cultural extinction and the rising nation that is quashing them.
About the Author
Award-winning journalist Tim Johnson has spent the last twenty years as a foreign correspondent for the Miami Herald and the McClatchy Company. He was Beijing bureau chief for McClatchy Newspapers for six years and is now based in Mexico City.
Praise For Tragedy in Crimson: How the Dalai Lama Conquered the World But Lost the Battle with China…
"Tim Johnson's book [
Tragedy in Crimson
] has the virtue of great timing… Johnson does cast considerable light on what is at stake. . . . Cultural knowledge is fading. Johnson even finds a Tibetan either too cut off or too fearful to admit he has ever heard of the Dalai Lama.  That leaves Tibet clinging to what Johnson calls the "Hail Mary" strategy, a faith that Tibetan culture can outlast China's Communist party. One expert points hopefully to the case of East Timor, which seized independence from Indonesia after the fall of Suharto in 1998. But Johnson has spent six years watching the awesome progress of the Chinese economy and the adaptability of the Communist party. He is not holding his breath."
—
Financial Times
 "[Johnson] saw how strong the forces the Tibetan exile movement is up against are, not just because Beijing is committed to holding on to the strategic region but also because most members of China's ethnic Han majority lack sympathy for Tibetan complaints. Tibet is on lockdown. Foreign governments are less willing to support the overseas movement as China's influence grows, and Beijing's strategy to solve the Tibet problem with economic development, repression, and propaganda is failing."
—Andrew J. Nathan, 
Foreign Affairs
  "Tim Johnson's 
Tragedy in Crimson
 is a 
tour d'horizon
, a wide-ranging overview of the political, economic and cultural terrain in Tibet and the broader forces that will impact its future. . . . 
Tragedy in Crimson
 richly describes and analyzes the many cross-currents that swirl around the fate of Tibet. . . .  In its sweep and depth of coverage, [
Tragedy in Crimson
] is basic reading for anyone seeking a firm grounding in current developments in Tibet and an appreciation of possibilities and options going forward."
—
Washington Independent Review of Books
 "
Tragedy in Crimson
 is about China and Tibet, but has lessons for us. . . . Johnson believes the way China deals with Tibet says something about how an increasingly powerful China may deal with its close neighbors and even the United States. . . . The politics and history he writes about are leavened by his portraits of people and their lives… a good primer on how China wields its power."
— Seattle Times
  "As recent events in Egypt have shown, governments that one day appear invincible may the next lie in tatters. And if the 14th Dalai Lama were a betting man, he'd probably put his money on China being the next strong power to fall. . . . Though his sympathies are clearly with Tibet, Johnson mulls the Dalai Lama's optimism with sincere doubt. He laments the sapping of Lhasa's soul by the boom of Chinese commerce, but can't help marvelling at the railway partly responsible for it… Johnson speculates that Tibet will be further swallowed up by China when the popular Dalai Lama dies, a nearing eventuality. And what lies in the balance isn't so much the beacon of enlightenment the humble Himalayan country is often built up to be, but a rich, nomadic culture that subsists peacefully on Tibet's rolling grasslands."
— Macleans (Canada)
 "[The Dalai Lama] is 72 and one day soon the Tibetans will have to search for the 15th reincarnation, inevitably a child, who will have to continue to lead the Tibetans in a David-and-Goliath fight.  The prospect is alarming, as China grows ever more powerful and assertive. It is why the veteran American correspondent Tim Johnson has chosen to assess what has gone so wrong for the Tibetans. In Tragedy in Crimson, he travels around the world investigating why a movement that has become so well organised and backed by A-list Hollywood celebrities has failed so dismally to achieve any of its aims."
—The Spectator (UK)
 "If Beijing's leaders feel compelled to assert claims to Tibet and Taiwan, it is because these places are not merely territorial interests—they are ideological, even existential, challenges to communist rule.  In 'Tragedy in Crimson,' Tim Johnson, a former Beijing bureau chief for the Knight-Ridder and McClatchy newspaper groups, reports on—as his subtitle has it—'How the Dalai Lama Conquered the World but Lost the Battle With China.' The exiled leader is revered by Tibetans and by politicians and celebrities around the world, but he is still under siege by the Chinese Communist Party, 60 years after China invaded Tibet and eventually drove him into exile. . . .  [The Dalai Lama's] work has yielded considerable achievements, including democracy in exile and the preservation of Tibet's culture and religion. 'It is hard to imagine how a Tibetan leader could have risen more suitably to the times and challenges,' Mr. Johnson writes, in clear admiration of the Dalai Lama's resilience and moral purpose.  Indeed, the story of 'Tragedy in Crimson' contains many elements of triumph."
—
Wall Street Journal
 "The word "tragedy" in this title is apt; the book is engrossing and informative but not optimistic. . . . [Johnson] writes with informed passion, insight, and clarity … A vivid and up-to-date picture for interested readers at all levels."—
Library Journal
 "[Johnson] weaves together interviews with monks, nomads, exiled activists, and the Dalai Lama himself in this evocative account of China's escalating suppression of the Tibetan people and their traditional way of life. . . . A sobering, engrossing, and important account of an imperiled culture."
—Publishers Weekly, Starred Review
 "
Tragedy in Crimson
 is an insightful and comprehensive account of the complexities of the relationship between Tibet and China. Essential reading for all concerned with the future of Tibet and Tibetan culture."
—Isabel Hilton, author of The Search for the Panchen Lama
 "In 
Tragedy in Crimson
, Tim Johnson cuts through the propaganda and hype to provide what is long overdue – a clear-eyed and dispassionate look at the predicament of the Tibetan people.  Johnson has the sharp and objective eye of a journalist from long experience covering China.  His thoroughly up-to-date and forward-looking account examines the Tibetans' uncertain future, after the eventual passing of the current Dalai Lama.  Johnson introduces the reader to the 25-year-old  hip-hop loving, iPod-wearing Karmapa lama (nicknamed "His Hotness" by a swooning American fan), now being groomed as a protegee of the Dalai Lama, and to a Tibetan princess (daughter of the Panchen  Lama and Chinese mother) who was educated in California and is fluent in Valley Girl speak.  Johnson deals with China's encroachment on Tibetan culture in recent decades, but he doesn't rehash the old ground so much as look to the bigger picture.  The real threat is China's growing economic might, which makes the world's leaders increasingly reluctant to stand up for Tibetans' rights.  The Dalai Lama might have his A-list Hollywood supporters, but Beijing with a phone call can get – to cite a recent glaring example from 2009 – South Africa to deny him a visa to attend a conference of Nobel peace laureates."
—Barbara Demick, Los Angeles Times Beijing bureau chief and author of Nothing to Envy
 "This book is a must-read for anyone interested in Tibet.  A former China correspondent with evident sympathy for the Dalai Lama's plight, Johnson traverses the gulf between the world's fastest rising materialist power and a dispossessed culture that has become a beacon of spirituality for millions across the globe.  What he finds is at once tragic, heroic, Machievellian and absurd.  From Hollywood stars and video-game-playing living Buddhas to Communist censors and thuggish monks, Johnson does not flinch from the anomalies, hypocrisy and contradictions in the pro-Tibet camp, but he also shows great compassion in trying to understand its weakening struggle against marginalization.  Ultimately this is not just a book about Tibet and China, but an exploration of a timeless human dilemma: how to reconcile virtue and power."—
Jonathan Watts, author of When a Billion Chinese Jump
Advertisement