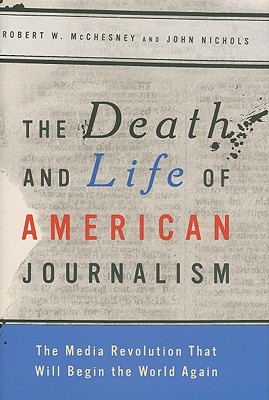 The Death and Life of American Journalism (Hardcover)
The Media Revolution that Will Begin the World Again
Nation Books, 9781568586052, 352pp.
Publication Date: January 1, 2010
* Individual store prices may vary.
Description
Daily newspapers are closing across America. Washington bureaus are shuttering; whole areas of the federal government are now operating with no press coverage. International bureaus are going, going, gone.
Journalism, the counterbalance to corporate and political power, the lifeblood of American democracy, is not just threatened. It is in meltdown.
In "The Death and Life of American Journalism," Robert W. McChesney, an academic, and John Nichols, a journalist, who together founded the nation's leading media reform network, Free Press, investigate the crisis. They propose a bold strategy for saving journalism and saving democracy, one that looks back to how the Founding Fathers ensured free press protection with the First Amendment and provided subsidies to the burgeoning print press of the young nation.
About the Author
Robert W. McChesney is a professor in the department of communications at the University of Illinois at Urbana-Champaign. He hosts the Media Matters on WILL-AM radio, and is the author of Rich Media, Poor Democracy. He lives in Illinois and Wisconsin.John Nichols is The Nation's Washington correspondent, a contributing writer for The Progressive, and the associate editor of the Capital Times. He is the author of Jews for Buchanan, Dick, and Our Media, Not Theirs (with McChesney). He lives in Madison, Wisconsin.
or
Not Currently Available for Direct Purchase