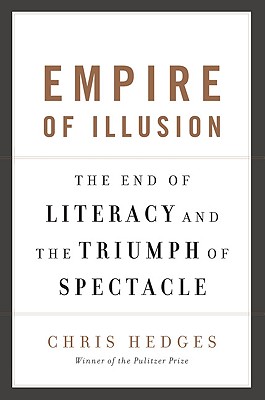 Empire of Illusion (Paperback)
The End of Literacy and the Triumph of Spectacle
Bold Type Books, 9781568586137, 240pp.
Publication Date: October 5, 2010
Other Editions of This Title:
MP3 CD (4/10/2018)
Compact Disc (4/10/2018)
Hardcover (7/1/2009)
* Individual store prices may vary.
Description
A prescient book that forecast the culture that gave rise to Trump -- a society beholden to empty spectacle and obsession with image at the expense of reality, reason, and truth.An instant bestseller, Empire of Illusion is a striking and unsettling exploration of illusion and fantasy in contemporary American culture. Traveling to the ringside of professional wrestling bouts at Madison Square Garden, to Las Vegas to write about the pornographic film industry, and to academic conferences held by positive psychologists who claim to be able to engineer happiness, Hedges chronicles our flight from an ever-worsening reality. The cultural embrace of illusion and celebrity culture have accompanied a growing system of casino capitalism, which creates vast wealth for elites. Corporations have ruthlessly dismantled and destroyed our manufacturing base and impoverished our working class. Hedges exposes the mechanisms that undermine our democracy and divert us from the economic, environmental, political, and moral collapse around us. A culture that cannot distinguish between reality and illusion dies, Hedges argues, and we are dying now.
About the Author
Chris Hedges is a cultural critic and author who was a foreign correspondent for nearly two decades for the New York Times, The Dallas Morning News, The Christian Science Monitor and National Public Radio. He reported from Latin American, the Middle East, Africa and the Balkans. He was a member of the team that won the 2002 Pulitzer Prize for Explanatory Reporting for The New York Times coverage of global terrorism, and he received the 2002 Amnesty International Global Award for Human Rights Journalism. Hedges, who holds a Master of Divinity from Harvard Divinity School, is the author of the bestsellers American Fascists: The Christian Right and the War on America, Empire of Illusion: The End of Literacy and the Triumph of Spectacle and was a National Book Critics Circle finalist for his book War Is a Force That Gives Us Meaning. He has taught at Columbia University, New York University, Princeton University and the University of Toronto. Hedges lives in Princeton, New Jersey.
Praise For Empire of Illusion: The End of Literacy and the Triumph of Spectacle…
"A trenchantly argued critique of the
near-destruction of the American Dream by unfettered capitalism."—Philadelphia Inquirer

"Remarkable, bracing and highly moral, Empire
of Illusion is Hedges' lament for his nation."—Macleans

"Thoroughly documented and written in a measured
but take-no-prisoners tone.... It's bound to stir up its share of
interest-generating controversy."—Booklist

"Each chapter of Empire of Illusion makes a strong case for how different
illusions...taken together are destroying the American mind, culture and the
nation itself."—National Post