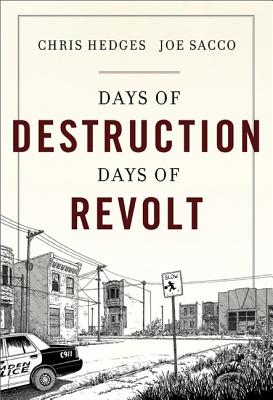 Days of Destruction, Days of Revolt
Hardcover

* Individual store prices may vary.
Other Editions of This Title:
Paperback (4/8/2014)
Description
Two years ago, Pulitzer Prize winner Chris Hedges and award-winning cartoonist and journalist Joe Sacco set out to take a look at the sacrifice zones, those areas in America that have been offered up for exploitation in the name of profit, progress, and technological advancement. They wanted to show in words and drawings what life looks like in places where the marketplace rules without constraints, where human beings and the natural world are used and then discarded to maximize profit. Days of Destruction, Days of Revolt is the searing account of their travels.
The book starts in the western plains, where Native Americans were sacrificed in the giddy race for land and empire. It moves to the old manufacturing centers and coal fields that fueled the industrial revolution, but now lie depleted and in decay. It follows the steady downward spiral of American labor into the nation's produce fields and ends in Zuccotti Park where a new generation revolts against a corporate state that has handed to the young an economic, political, cultural and environmental catastrophe.

Praise For Days of Destruction, Days of Revolt…
Boston Globe
"Days of Destruction, Days of Revolt (Nation) is as moving a portrait of poverty and as compelling a call to action as Michael Harrington's 'The Other America,' published in 1962."
Philadelphia Weekly
"The tales therein—both the intimate personal ones and the big sociopolitical ones—are as unsettling as they are impossible to put down."
Metro (UK)

"Eloquently written and embellished by spare, desolate drawings from Joe Sacco,
Days of Destruction, Days of Revolt
is accessible and deeply uncomfortable."  
Financial Times

"[A] growling indictment of corporate America."
Bookslut

"Hedges carries the mantle of Upton Sinclair, Howard Zinn, George Orwell, and all the agitators in fighting for the soul of nations when so many have forgotten what that means. His eloquence is in the eloquence of the lives he presents, and Sacco lovingly animates them. It's rare that a book carries so much courage and conviction, forcing reflection and an urge to immediately rectify the problems."  
Associated Press

"…provides close accounts of some of the country's most devastated communities, "sacrifice zones." It ends with a detailed history of the Occupy protests and a declaration that "the mighty can fall."
Portland Monthly magazine

"Days of Destruction
is a riveting indictment of America's failures."
Seattle Times

"The book is a primer for every American who is overwhelmed by the uncertainty of the stock market, who wonders where America's muscle went, and how much heavy lifting our kids will face."  
Bill Moyers

"The journalist Chris Hedges is a unique force today, because of his fierce independence and candor.  He's been writing about how politics is a charade aimed at making voters think the personal narrative of the candidate is the story although it never affects the operation of the corporate state.  No matter which candidate wins, the money power in Washington reigns.  That nails it, don't you think?"
Nation Books, 9781568586434, 320pp.
Publication Date: June 12, 2012
About the Author
Chris Hedges is a Pulitzer Prize-winning journalist. He spent nearly two decades as a correspondent in Central America, the Middle East, Africa, and the Balkans, with fifteen years at the New York Times. He is the author of numerous bestselling books, including Empire of Illusion; Death of the Liberal Class; War is a Force that Gives Us Meaning; and Days of Destruction, Days of Revolt, which he co-wrote with Joe Sacco. He writes a weekly column for the online magazine Truthdig. He lives in Princeton, New Jersey. Joe Sacco, one of the world's greatest cartoonists, is widely hailed as the creator of war reportage comics. He is the author of, among other books, the American Book Award winning Palestine, Footnotes in Gaza, which received the Ridenhour Book Prize, and Safe Area: Gorazde, which won the Eisner Award and was named a New York Times Notable Book and Time magazine's best comic book of 2000. His books have been translated into fourteen languages and his comics reporting has appeared in Details, the New York Times Magazine, Time, Harper's, and the Guardian. He lives in Portland, Oregon.
Coverage from NPR
or
Not Currently Available for Direct Purchase