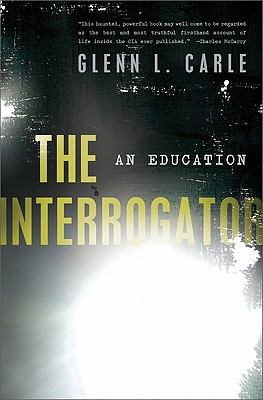 The Interrogator
An Education
Hardcover

* Individual store prices may vary.
Other Editions of This Title:
Paperback (10/2/2012)
Audio Cassette (7/1/2011)
MP3 CD (6/28/2011)
Compact Disc (6/28/2011)
Compact Disc (6/28/2011)
Description
To his friends and neighbors, Glenn L. Carle was a wholesome, stereotypical New England Yankee, a former athlete struggling against incipient middle age, someone always with his nose in an abstruse book. But for two decades Carle broke laws, stole, and lied on a daily basis about nearly everything. "I was almost never who I said I was, or did what I claimed to be doing." He was a CIA spy. He thrived in an environment of duplicity and ambiguity, flourishing in the gray areas of policy.
The Interrogator is the story of Carle's most serious assignment, when he was "surged" to become an interrogator in the U.S. Global War on Terror to interrogate a top level detainee at one of the CIA's notorious black sites overseas. It tells of his encounter with one of the most senior al-Qa'ida detainees the U.S. captured after 9/11, a "ghost detainee" who, the CIA believed, might hold the key to finding Osama bin Ladin.
As Carle's interrogation sessions progressed though, he began to seriously doubt the operation. Was this man, kidnapped in the Middle East, really the senior al-Qa'ida official the CIA believed he was? Headquarters viewed Carle's misgivings as naïve troublemaking. Carle found himself isolated, progressively at odds with his institution and his orders. He struggled over how far to push the interrogation, wrestling with whether his actions constituted torture, and with what defined his real duty to his country. Then, in a dramatic twist, headquarters spirited the detainee and Carle to the CIA's harshest interrogation facility, a place of darkness and fear, which even CIA officers only dared mention in whispers.
A haunting tale of sadness, confusion, and determination, The Interrogator is a shocking and intimate look at the world of espionage. It leads the reader through the underworld of the Global War on Terror, asking us to consider the professional and personal challenges faced by an intelligence officer during a time of war, and the unimaginable ways in which war alters our institutions and American society.
Praise For The Interrogator: An Education…
Charles McCarry
"This haunted, powerful book may well be the best and most truthful firsthand account of life inside the CIA ever published."
Joe Wilson and Valerie Plame Wilson
"Glenn Carle's book The Interrogator is a disturbing tale of the extremes to which the Bush administration was prepared to go in its Global War on Terror. Faceless bureaucrats sacrificed the core values that made the United States a great country, while ignoring the counsel of experts on the ground. This is a damning story and a nation of laws would demand an investigation into whether crimes were committed. We fear that we are no longer that nation…"
Lawrence Wilkerson, former chief of staff to Secretary of State Colin Powell
"In The Interrogator, Glenn Carle has done more than simply lift a part of the curtain behind which are lurking despicable men such as John Yoo and Douglas Feith, he has turned the stage lights on those who stand out front and continue to receive rave reviews from the rabid right wing, men such as Dick Cheney and Donald Rumsfeld. But most of all, Carle's moving and emotional story—in spite of CIA redactions to the text—has exposed us all, from the CIA officers who turned a blind eye, to the cabinet members who should have known better, to the American people themselves because they allowed such people to corrupt our nation. I know; I was one of them."
John H. Hedley, former Chairman of CIA's Publications Review Board
"Glenn Carle shares his personal experience and soul-searching reflection on rendition, detention, and interrogation in the Global War on Terrorism. It is a cathartic effort that recounts an intensely emotional journey. Carle weighs what he sees as the corrosive effect of this experience on him, his Agency, and his country. Ultimately the detainee interrogated may not have suffered most; perhaps it was the interrogator himself."
Peter Bergen, author of The Longest War: The Enduring Conflict between America and al-Qaeda
"Glenn Carle writes with great verve and lyricism about a decidedly unlyrical moment in the history of the U.S. intelligence community; the decision after 9/11 to take the gloves off when it cane to the detention and interrogation of al Qaeda suspects. As Carle witnesses, the U.S. government's assumptions about how important those suspects were was sometimes way off base, while their treatment at the hands of American officials often did not measure up to the high ethical standards the United States wishes to uphold as a country. Carle tells the story from inside the CIA's "war on terror" and he does it with great honesty and realism; he has the eye of the novelist and the analytical skills of the senior CIA officer he was. That makes "The Interrogator" an engrossing read, and also an important book."

David Ignatius, columnist for The Washington Post and author of Body of Lies
Glenn Carle's "The Interrogator" is a remarkable memoir--for its searing personal honesty, for its portrait of the amoral secret bureaucracy of the CIA, and most of all for its revelation of how a decent American became part of a process that we can only call torture."
Gilles Kepel, Professor, Institute of Political Studies, Paris, author of Beyond Terror and Martyrdom: The Future of the Middle East
"This fascinating insider narrative of GWOT is one of the best assessments I have ever read on the major discrepancy between the jihadi challenge and the US response."
Nation Books, 9781568586731, 336pp.
Publication Date: July 1, 2011
About the Author
Glenn l. Carle was a member of the CIA's Clandestine Service for twenty-three years and retired in March 2007 as deputy national intelligence officer for transnational threats. He lives in Washington, DC.
or
Not Currently Available for Direct Purchase