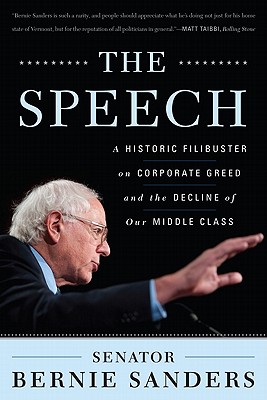 The Speech
A Historic Filibuster on Corporate Greed and the Decline of Our Middle Class
Paperback

* Individual store prices may vary.
Other Editions of This Title:
Paperback (1/7/2012)
Paperback (12/22/2015)
Description
On Friday, December 10, 2010, Vermont Senator Bernie Sanders walked on to the floor of the United States Senate and began speaking. It turned out to be a very long speech, lasting over eight and a half hours. And it hit a nerve. Millions followed the speech online until the traffic crashed the Senate server. A huge, positive grassroots response tied up the phones in the senator's offices in Vermont and Washington. President Obama reportedly held an impromptu press conference with former President Clinton to deflect media attention away from Sanders' speech. Editorials and news coverage appeared throughout the world.
In his speech, Sanders blasted the agreement that President Obama struck with Republicans, which extended the Bush tax cuts for millionaires and billionaires, lowered estate tax rates for the very, very rich, and set a terrible precedent by establishing a "payroll tax holiday" diverting revenue away from the Social Security Trust Fund, threatening the fund's very future. But the speech was more than a critique of a particular piece of legislation. It was a dissection of the collapse of the American middle class and a well-researched attack on corporate greed and on public policy which, over the last several decades, has led to a huge growth in millionaires even as the United States has the highest rate of childhood poverty in the industrialized world. It was a plea for a fundamental change in national priorities, for government policy that reflects the needs of working families, and not just the wealthy and their lobbyists.
Finally, Sanders' speech-published here in its entirety with a new introduction by the senator-is a call for action. It is a passionate statement informing us that the only people who will save the middle class of this country is the middle class itself, but only if it is informed, organized, and prepared to take on the enormously powerful special interests dominating Washington.
Praise For The Speech: A Historic Filibuster on Corporate Greed and the Decline of Our Middle Class…
Matt Taibbi, Rolling Stone
"Bernie Sanders is such a rarity, and people should appreciate what he's doing not just for his home state of Vermont, but for the reputation of all politicians in general."
Nation Books, 9781568586847, 270pp.
Publication Date: March 1, 2011
About the Author
Bernie Sanders is a Democratic candidate for President of the United States. In 2006, he was elected to the U.S. Senate after 16 years as Vermont's sole congressman in the House of Representatives. Bernie is now serving his second term in the U.S. Senate after winning re-election in 2012 with 71 percent of the vote.
or
Not Currently Available for Direct Purchase