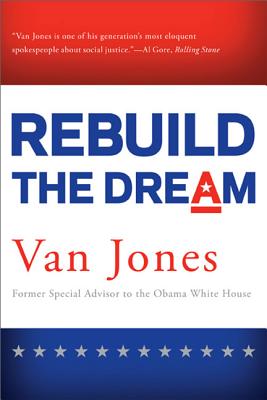 Rebuild the Dream (Hardcover)
Nation Books, 9781568587141, 278pp.
Publication Date: April 3, 2012
Other Editions of This Title:
Digital Audiobook (9/20/2012)
Paperback (5/14/2013)
* Individual store prices may vary.
Description
In the face of Wall Street's recklessness, Washington's negligence and the tea parties' belligerence, President Obama's former Green Jobs Czar, Van Jones sets forth a bold new manifesto that reclaims the American Dream on behalf of all working Americans
About the Author
Van Jones is founding president of Rebuild the Dream, a pioneering initiative to restore good jobs and economic opportunity. He is the co-founder of three, thriving organizations: the Ella Baker Center for Human Rights, Color of Change, and Green For All. Jones is the author of the "New York Times" best seller, "The Green Collar Economy."A Yale-educated attorney, Van worked as the green jobs advisor to the Obama White House in 2009. There, he helped run the inter-agency process that oversaw $80 billion in green recovery spending. "Time Magazine" has named Jones one of the 100 most influential people in the world. He lives in Los Angeles with his wife and two children. Rebuild the Dream is a strategy and action center that is rapidly emerging as a major force in the fight to rescue America's middle class. Launched in June 2011, the organization is already more 600,000 members strong, with a presence in every Congressional District. To join the movement, go to RebuildTheDream.com.
Praise For Rebuild the Dream…
"Van Jones has made it his life's work to speak truth to power"—Nancy Pelosi in Time Magazine "Van Jones is an American treasure … one of the few Americans in recent years to have generated powerful new ideas that are creating more jobs here."—Benjamin Todd Jealous, NAACP President, on CNN.com "Van has successfully brought together urban youth with clean-tech entrepreneurs, labor leaders with business leaders, civil rights activists with environmentalists."—Arianna Huffington, on the Huffington Post "Van Jones is an exceptional and inspired leader who has fought to bring economic and environmental justice to communities across our country."—John Podesta, President of the Center for American Progress
"Van Jones has worked tirelessly to bring jobs and environmental progress to some of the poorest communities in our nation. His dedication and leadership are exactly what we need more of in Washington."
—Justin Ruben, Executive Director of Moveon.org

"Jones is an extraordinarily important leader. He cares, passionately, about helping young men and women find their way in the world, even if they had the misfortune to grow up in bad neighborhoods or make bad choices – and he sees in a new green economy a powerful instrument to heal their lives."
—Carl Pope, Executive Director of the Sierra Club

"This guy is a Yale-educated lawyer, he is a best-selling authority about his specialty."
—Howard Dean, Former Governor of Vermont, Presidential Candidate and Chair of the Democratic National Committee

"Van is a gifted leader of ideas and of action. He makes connections, thinks beyond the box, and inspires others to join… He inspired people across the country with the insight that the transition to a sustainable economy could be the greatest jobs program since the mobilization for World War II – and that we could insure that those who were left out of the old economy could be central to the green jobs of the new economy."
—Robert Borosage, President of Institute for America's Future
or
Not Currently Available for Direct Purchase