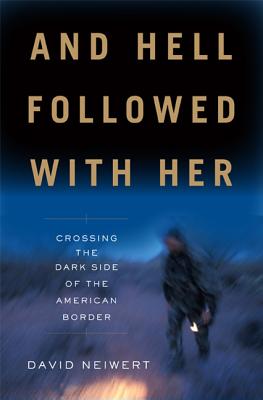 And Hell Followed With Her (Hardcover)
Crossing the Dark Side of the American Border
Bold Type Books, 9781568587257, 336pp.
Publication Date: March 26, 2013
* Individual store prices may vary.
Description
It began with a frantic 911 call from a woman in a dusty Arizona border town. A gang claiming to be affiliated with the Border Patrol had shot her husband and daughter. It was initially assumed that the murders were products of border drug wars ravaging the Southwest until the leader of one of the more prominent offshoots of the Minutemen movement was arrested for plotting the home invasion as part of a scheme to finance a violent antigovernment border militia.

And Hell Followed With Her: Crossing to the Dark Side of the American Border is award-winning journalist David Neiwert's riveting account of the life and death of America's Minutemen—and the terrifying story and psychology of movement leader Shawna Forde. A compulsive and brilliant portrait of cold-blooded killers and true believers, And Hell Followed With Her is at once a horrifying crime story and a frontline report on America's nativist foot soldiers.

About the Author
David Neiwert is a journalist and author and an acknowledged expert in American right-wing extremism. He has appeared Anderson Cooper 360, CNN Newsroom, and The Rachel Maddow Show and is the managing editor of the popular political blog "Crooks and Liars." His work has also appeared in "The American Prospect," "The Washington Post," MSNBC.com, Salon.com, and other publications. His previous books include "The Eliminationists: How Hate Talk Radicalized the American Right" (Polipoint) and "Strawberry Days: How Internment Destroyed a Japanese-American Community" (Palgrave), and he has won a National Press Club award for Distinguished Online Journalism.
Praise For And Hell Followed With Her: Crossing the Dark Side of the American Border…
"David Neiwert has not only earned his investigative chops over the past decade or so by exploring the dangerous side of right-wing extremism—he's proven himself to be one of the more lyrical and elegant writers on the beat. …Neiwert's insights after covering right-wing extremism movements, his gift with language, his considerable storytelling skills all combine to make 
And Hell Followed With Her
 a near compulsive—and frightening—read. His ability to combine the history of these various organizations with the more immediate crime, and his analysis of the mindset of those who spent their lives immersed in the delusions of the right wing, make this book an important one, one with implications that reach far beyond one woman, two deaths and one border town….a radically scary wake-up call of forewarning."
Daily Kos
"The pace is gripping as well as informative in ways human and political…"
Oregonian
"A taut true-crime story told with a measure of gravitas, gripping as much for the grisly particulars of a violent murder as for the fascinating context of the anti-immigrant movement playing out along the U. S-Mexico border....As the national debate on immigration heats up again, this is a must-read for those who seek a deeper understanding of the issues and emotions behind the rhetoric."
Seattle Times
"A scouring investigation of the unorthodox methods of the anti-immigration Minuteman Project . . . . A sweeping account of some of [its] major players."
Kirkus Reviews

"A taut true-crime story told with a measure of gravitas, gripping as much for the grisly particulars of a violent murder as for the fascinating context of the anti-immigrant movement playing out along the U.S.-Mexico border....As the national debate on immigration heats up again, this is a must-read for those who seek a deeper understanding of the issues and emotions behind the rhetoric."
Seattle Times
or
Not Currently Available for Direct Purchase