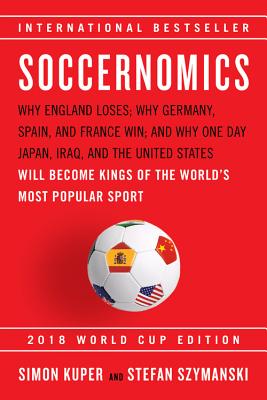 Soccernomics (2018 World Cup Edition) (Paperback)
Why England Loses; Why Germany, Spain, and France Win; and Why One Day Japan, Iraq, and the United States Will Become Kings of the World's Most Popular Sport
Bold Type Books, 9781568587516, 512pp.
Publication Date: April 24, 2018
* Individual store prices may vary.
Description
The 2018 World Cup edition of the international bestseller and "the most intelligent book ever written about soccer" (San Francisco Chronicle) is updated throughout and features new chapters on the FIFA scandal, why Iceland wins, and women's soccer.

Named one of the Best Books of the Year by the Guardian, Slate, Financial Times, Independent (UK), and Bloomberg News

Written with an economist's brain and a soccer writer's skill, Soccernomics applies high-powered analytical tools to everyday soccer topics, looking at data and revealing counterintuitive truths about the world's most beloved game. It all adds up to a revolutionary new approach that has helped change the way the game is played.
This World Cup edition features ample new material, including fresh insights into FIFA's corruption, the surge in domestic violence during World Cups, and Western Europe's unprecedented dominance of global soccer.
About the Author
Simon Kuper
is one of the world's leading writers on soccer. The winner of the William Hill Prize for sports book of the year in Britain, Kuper writes a weekly column for the
Financial Times.
He lives in Paris, France.
Stefan Szymanski is the Stephen J. Galetti Collegiate Professor of Sport Management at the University of Michigan's School of Kinesiology. Tim Harford has called him "one of the world's leading sports economists." He lives in Ann Arbor, Michigan.
Praise For Soccernomics (2018 World Cup Edition): Why England Loses; Why Germany, Spain, and France Win; and Why One Day Japan, Iraq, and the United States Will Become Kings of the World's Most Popular Sport…
"Many explanations [of England's poor form] can be found in the book Soccernomics in a segment entitled 'Why England Loses.' (This is well worth a read for any English football fan; essentially, you overvalue your football heritage and undervalue the benefits of innovation.)"
—Stephen J. Dubner, coauthor of Freakonomics, on the Freakonomics blog

"Fascinating."
—VanityFair.com

"The authors take what 'everybody' knows about success and failure in soccer and subject it to rigorous empirical analysis embedded in good stories that carry the narrative along. . . . Highly recommended."
—Choice

"Soccernomics [is] a sharply written and provocative examination of the world's game seen through the prism of economics and statistical data. It demolishes almost everything that most soccer fans believe about the game and how professional soccer teams should operate."
—Globe and Mail (Canada)

"Oh, Rooney's the best. [My son] Ben thinks that England might be in the top four, but that's it. He knows the starting line up of every European team. We're reading this very interesting book about football together, you know Soccernomics."
—Lorrie Moore, author of A Gate at the Stairs and Birds of America

"Since the publication of the first edition of Soccernomics there have been several attempts to copy its content. Yet few authors in the world of soccer writing can tell a human story like Simon Kuper, and even fewer academics can write an understandable narrative with numbers like Stefan Szymanski. Together the two men raise the bar again, bringing new insights to an already great body of work that is accessible and interesting to the quant and casual reader alike. . . . I highly recommend you pick it up for yourself, even if you have already read the first edition. You will not be disappointed."
—Zach Slaton, Forbes (online)

"Quite an entertaining read."
—Simply Futbol

"Wonderful book."
—Pro Soccer Talk (NBC Sports blog)

"Soccernomics . . . remains essential reading for anyone seeking an analytical take on the game."—Keeping Score (TIME Soccer Blog)

"Soccernomics is the most intelligent book ever written about soccer."
—San Francisco Chronicle

"With Soccernomics, the FT's indispensable Simon Kuper and top-flight sports economist Stefan Szymanski bring scrupulous economic analysis and statistical rigor to a sport long dependent on hoary--and, it seems, unfounded--assumptions. . . . Gripping and essential."
—Slate.com, Best Books of 2009

"[Soccernomics] is a sporting tale in the Freakonomics mode of inquiry, using statistics to come up with fascinating conclusions."
—Independent (UK), Best Books of 2009

"[Szymanski and Kuper] entertainingly demolish soccer shibboleths. . . . Well argued and clear-headed."
—Financial Times, Best Books of 2009

"Using data analysis, history and psychology, [Soccernomics] punctures dozens of clichés about what it takes to win, and who makes money in soccer--and in sports in general."
—Associated Press

"[Kuper
and Szymanksi] do for soccer what Moneyball did for baseball--put the
game under an analytical microscope using statistics, economics,
psychology, and intuition to try to transform a dogmatic sport."
—New York Times