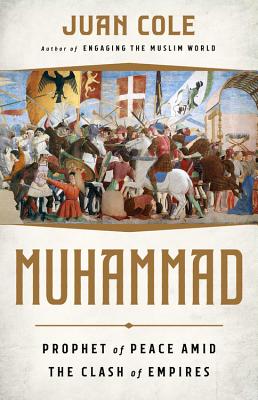 Muhammad
Prophet of Peace Amid the Clash of Empires
Hardcover

* Individual store prices may vary.
Other Editions of This Title:
Paperback (3/3/2020)
Description
In the midst of the dramatic seventh-century war between two empires, Muhammad was a spiritual seeker in search of community and sanctuary.

Many observers stereotype Islam and its scripture as inherently extreme or violent-a narrative that has overshadowed the truth of its roots. In this masterfully told account, preeminent Middle East expert Juan Cole takes us back to Islam's-and the Prophet Muhammad's-origin story.

Cole shows how Muhammad came of age in an era of unparalleled violence. The eastern Roman Empire and the Sasanian Empire of Iran fought savagely throughout the Near East and Asia Minor. Muhammad's profound distress at the carnage of his times led him to envision an alternative movement, one firmly grounded in peace. The religion Muhammad founded, Islam, spread widely during his lifetime, relying on soft power instead of military might, and sought armistices even when militarily attacked. Cole sheds light on this forgotten history, reminding us that in the Qur'an, the legacy of that spiritual message endures.

A vibrant history that brings to life the fascinating and complex world of the Prophet, Muhammad is the story of how peace is the rule and not the exception for one of the world's most practiced religions.
Praise For Muhammad: Prophet of Peace Amid the Clash of Empires…
"Cutting-edge....Muhammad is not just eruditely informative, but also ambitiously revisionist....a more uplifting image of the Prophet Muhammad, waiting to be discovered not just by non-Muslims, but also many Muslims themselves."—New York Times Book Review

"A captivating
biography of Muhammad that captures the centrality of peace in his prophetic
revelation and in the faith community he established. A brilliant and original
book destined to challenge many Western preconceptions about Islam."—Eugene Rogan, author of TheArabs: A History

"Juan Cole's Muhammad comes at precisely the right time. During a moment where Islam has been positioned as an enhanced threat to America and the West, Cole provides a historical account that trenchantly takes down the mis-narrative that the Prophet Muhammad was, above all, war-mongering and wed to violence. This is more than historical work, but writing that equips readers with the knowledge to navigate our turbulent present."—Khaled A. Beydoun, professorof law and author American Islamophobia: Understanding the Roots and Rise ofFear

"Juan Cole's Muhammad draws deeply on the text of the Qur'an and on a vast selection of the best modern scholarship to make a convincing case for Muhammad as apostle of tolerance and peace. Cole shows how this original message of peace, consistently articulated in the Qur'an, was distorted by later Islamic tradition and denied by more than a thousand years of European polemic against Islam. Filled with astute observations at every turn."—Fred M. Donner, professorof near eastern history, University of Chicago

"A groundbreaking book, written in an accessible and engaging
style, that should be read by scholars, students, policymakers, religious
leaders, and media commentators alike. Cole's thoroughly original and
firmly-rooted scholarship challenges long established Western narratives of
Islam as a religion of violence, war and intolerance. A brilliant
reconstruction of early Islamic history."—John L. Esposito,university professor and professor of religion & international affairs,Walsh School of Foreign Service, Georgetown University

"An essential read in
a turbulent, dangerous time."—TheHistorical Novels Review

"A
riveting new history."—AlterNet
Bold Type Books, 9781568587837, 336pp.
Publication Date: October 9, 2018
About the Author
Juan Cole is a professor of history at the University of Michigan. A revered public intellectual, he is the author and creator of the award-winning blog Informed Comment, which averages 4.5 million page views a year. He is the author of Napoleon's Egypt, Engaging the Muslim World, and The New Arabs and has appeared on numerous television programs including the PBS Newshour, MSNBC's Rachel Maddow, CNN's Anderson Cooper 360, ABC's Nightline, and The Colbert Report. He lives in Ann Arbor, MI.