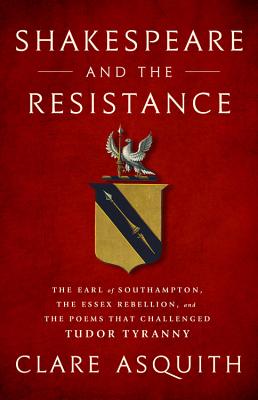 Shakespeare and the Resistance (Hardcover)
The Earl of Southampton, the Essex Rebellion, and the Poems that Challenged Tudor Tyranny
PublicAffairs, 9781568588124, 288pp.
Publication Date: August 21, 2018
* Individual store prices may vary.
Description
Shakespeare's largely misunderstood narrative poems contain within them an explosive commentary on the political storms convulsing his country
The 1590s were bleak years for England. The queen was old, the succession unclear, and the treasury empty after decades of war. Amid the rising tension, William Shakespeare published a pair of poems dedicated to the young Earl of Southampton:
Venus and Adonis
in 1593 and
The Rape of Lucrece
a year later.
Although wildly popular during Shakespeare's lifetime, to modern readers both works are almost impenetrable. But in her enthralling new book, the Shakespearean scholar Clare Asquith reveals their hidden contents: two politically charged allegories of Tudor tyranny that justified-and even urged-direct action against an unpopular regime. The poems were Shakespeare's bestselling works in his lifetime, evidence that they spoke clearly to England's wounded populace and disaffected nobility, and especially to their champion, the Earl of Essex.
Shakespeare and the Resistance
unearths Shakespeare's own analysis of a political and religious crisis which would shortly erupt in armed rebellion on the streets of London. Using the latest historical research, it resurrects the story of a bold bid for freedom of conscience and an end to corruption that was erased from history by the men who suppressed it. This compelling reading situates Shakespeare at the heart of the resistance movement.
About the Author
Clare Asquith, Countess of Oxford and Asquith, is the author of Shadowplay: The Hidden Beliefs and Coded Politics of William Shakespeare. She studied English literature at Oxford, where she gained a congratulatory First. Her ideas about Shakespeare's politics and religion were first raised in the Times Literary Supplement in 2001. Since then, she has written numerous articles and lectured widely on Shakespeare and his background.
Praise For Shakespeare and the Resistance: The Earl of Southampton, the Essex Rebellion, and the Poems that Challenged Tudor Tyranny…
"A wonderful book and an important contribution
to Shakespeare studies. It flows like a good novel, taking the reader into the
argument and illuminating the neglected poems with scholarship and infectious
enthusiasm."—Michael Scott, author of Shakespeare: A Complete Introduction; Honorary Senior Provost of the University of Wales Trinity St David

"Insightful and enjoyable.... A vivid and
persuasive argument that we can and should renew our enquiry into Shakespeare's
complex and disguised responses, under strict censorship, to the fraught and
dangerous cultural politics of post-Reformation England."—Sir Michael Boyd, artistic director of the Royal Shakespeare Company, 2003-2012

"Compelling ... written with lovely clarity and
verve."—Emma J. Smith, professor of English, Oxford University

"Continuing her learned and provocative account
of Shakespeare's religion and politics in Shadowplay,
Clare Asquith turns her attention, in this beautifully written and informative book,
to the narrative poems ... demonstrating that Shakespeare would have been as
gripped by such events as Russian writers were by the communist terror, and as
unable as they to express his thoughts directly. If you love Shakespeare,
England, and our Christian heritage, you will want this book by your bedside
and that of your guests. Buy the book now, and prepare for long evenings of fertile
argument."—Sir Roger Scruton, editor of The Salisbury Review

"Another distinguished achievement ... among other
things, an excellent narrative of the last poignant months of Essex and his
importance to Shakespeare and Southampton. Asquith leads the way in impressing
on our culture the power of the Catholic presence in Shakespeare and in England."—Dennis Taylor, emeritus professor of English at Boston College, editor of Religion and the Arts